Netflix Probably Won't Make More Marvel Shows, But Disney Will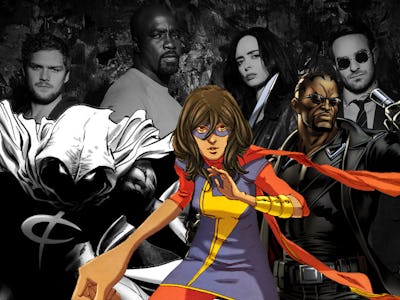 Netflix, Marvel Entertainment
Get ready to pack up and move out of Hell's Kitchen, because Marvel isn't sticking with just Netflix much longer. As Disney gears up to launch its own streaming service in 2019, the House of Mouse will also produce a brand new Marvel TV series on Disney's exclusive platform.
In an investors conference call that took place on Thursday afternoon, Disney CEO Bob Iger announced that some of the exclusive programs on Disney's service will be a new live-action Star Wars series and a new Marvel TV show. While a Star Wars show is arguably a bigger deal, that there will be another entry into the Marvel Cinematic Universe is also pretty significant.
"Our advantage as a company is to take advantages that exist out there for good television and take advantage of it," Iger said during the call.
Though Marvel doesn't own the film and TV rights to all of its characters, notably the X-Men, there is no shortage of potential show ideas. Though it's difficult to truly speculate, perhaps popular characters like Ms. Marvel, or a chance to reboot Blade seem plausible.
There has been much ado lately about Marvel and Disney, specifically Disney's potential acquisition of 21st Century Fox (excluding its news and sports properties). The deal had less to do with mashing up the X-Men with the Avengers in a movie and more to do with acquiring diverse content to warrant a new subscription service. If there is any company to create its own platform, however, it is Disney.
Aside from the decades of animation and movies to make available, as well as big hit franchises Marvel and Star Wars, there's also the abundance of TV shows produced for channels like ABC, Freeform (formerly ABC Family), and kid-centric Disney Channel and Disney XD. That includes everything from Zorro to Grey's Anatomy, which just reached a milestone 300 episodes. These shows have a big presence on Netflix, which can only mean it's Netflix's loss should Disney move forward with its platform (which it will).
For Marvel fans, this means the future of Marvel's Netflix universe remains in doubt. Daredevil, Jessica Jones, Luke Cage, Iron Fist, The Defenders, and the upcoming The Punisher are all hits on the popular streaming service, but Disney stands to rake in a lot more profit by having shows on its own streaming service rather than having to share with Netflix. Disney's Chief Strategy Officer Kevin Mayer characterized the thinking as "pro-Disney" rather than "anti-Netflix," but it's unclear if that distinction will mean anything to the average Marvel fan/Netflix subscriber.
In any case, Marvel has a few TV projects still in the works. New Warriors, which was originally sold to Freeform, is now being shopped to a new network, with the Disney platform seen as a last resort due to its belated launch in 2019. John Ridley, who won an Oscar for his adapted screenplay 12 Years a Slave, is also developing a new Marvel series, though as recently as April 2017 told the press that progress had paused.