Please, Marvel: Let Oscar-Winner John Ridley Helm 'Ultimate Spider-Man' for TV
With great power to bring characters to life is a great responsibility.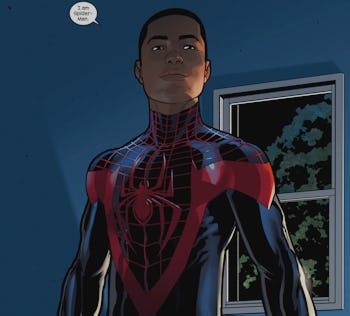 Marvel
John Ridley isn't a recognizable auteur like, say, Joss Whedon, but his recent enlistment by Marvel Studios to produce yet another TV spin-off of its growing universe is more than simply noteworthy.
There are, as of yet, no clues as to what project or character Ridley will be tackling but while his statements have been vague, Entertainment Weekly claims it will be based on an existing "superhero character or property.", Ridley himself has described the project as being "similar to Jessica Jones, citing it as "fun entertainment with a social conscience." Fan speculation is already high with an alleged "insider" posting on Reddit that Ridley is working on Ms. Marvel, and another theorizing that it is in fact an adaptation of Truth: Red, White & Black. Ridley debunked both at the TCA press tour, qualifying anything on the internet as being "phenomenally off the mark."
So, what could the award-winning screenwriter be cooking up for the House of Ideas? If there is justice in the nerd world, they are using their considerable powers to bring Ultimate Spider-Man to live-action television.
Introduced in 2011, half-African American, half-Latino teenager Miles Morales replaced a deceased Peter Parker as the new Spider-Man of the "Ultimate" universe, a parallel galaxy that mirrors primary Marvel — in geek speak, Earth-616. Marvel's recent Secret Wars crossover has further shaken things up and Miles can now be found swinging alongside Peter Parker in Earth-616, which has been renamed The Prime Earth.
After twelve years and five movies with Peter Parker as Hollywood's default webslinger, it would frankly be a breath of fresh air to see Miles take a spin around midtown. Many fans had hoped that Miles might be revealed as the Marvel Cinematic Universe's Spider-Man, but Kevin Feige & company are sticking with Parker for the time being and will reacquaint his third iteration with audiences in Captain America: Civil War.
But that doesn't mean Miles should never be in the MCU, should it?
Marvel's Agent Carter, Jessica Jones, and the upcoming Luke Cage prove that the serialized format is often the best alternative for superheroes that might otherwise be overlooked by the big screen. Let Peter Parker have his blockbuster moments in Civil War and beyond and Miles shine every week on ABC, a network known for championing with shows like Black-ish, Fresh off the Boat, and Shondaland's many offerings (Scandal and How to Get Away with Murder.)
A quick look at Ridley's oeuvre proves why he's a "good fit" for the Ultimate webslinger. The bulk of Ridley's work is likewise rooted in black Hollywood and an all-age audience. His credits begin with TV in sitcoms like Fresh Prince of Bel-Air, The John Larroquette Show, and Barbershop: The Series; genre like Team Knight Rider and DC's superhero animations Justice League and Static Shock; and network dramas like Third Watch.
In film, Ridley's novels Stray Dogs and Spoils of War became U Turn and Three Kings, the latter directed by David O. Russell. He gained more recognition co-writing Undercover Brother, which was celebrated as a sharp satire, and a decade later co-wrote Red Tails produced by George Lucas.
Ridley has also written more adult material like the drug-centric novel The Drift and the L.A. neo-noir romp Everybody Smokes in Hell. His resume shines brightest with his 2013 Oscar win for the adapted screenplay of Steve McQueen's 12 Years a Slave.
When it inevitably happens, Miles Morales' on-screen adaptation won't be a ham-fisted effort at diversity but a necessary reflection of our times as the young hero has quickly become a cultural icon for an increasingly diverse audience that was starved for representation amidst their superheroes. Ultimate Spider-Man is simply too good for Marvel, ABC, and indeed, Ridley himself to pass up. In an interview with Collider, the writer only commented that the material "felt like a good fit", and we certainly can't wish for a better one.