iPhone X Designer Reveals How It Will 'Evolve' Over Next 12 Months
Jony Ive has big plans for the phone.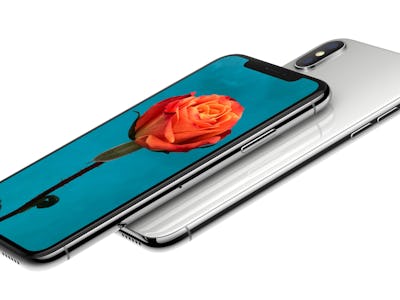 Apple
The iPhone X is only just getting started, with its designer revealing the $999 smartphone that launched only last week is going to keep developing over time. Jony Ive, Apple's chief design officer, said in a Thursday interview that because the front of the phone is almost entirely the screen itself, the software it runs will determine how it works more than for any previous phone.
"What I think is remarkable about the iPhone X is that its functionality is so determined by software," Ive told Wallpaper. "And because of the fluid nature of software, this product is going to change and evolve. In 12 months' time, this object will be able to do things that it can't now. I think that is extraordinary. I think we will look back on it and see it as a very significant point in terms of the products we have been developing."
The phone makes a lot of dramatic changes to Apple's flagship device. It uses a 5.8-inch screen in a phone about the same size as the 4.7-inch iPhone 7, covering more of the front by ditching the iconic home button. In its place is a gesture-based navigation system, and the fingerprint scanner once housed in the button has been switched for a hands-free face recognition system.
Reviewers have described the phone as "exquisite," but its high price and major changes have drawn criticism. Nilay Patel, in his review for The Verge, said that the Face ID system "mostly works great," but "sometimes it doesn't." The face scanner in general, which is also used to animate emojis in the texting app, has led to questions around how developers may use it in the future.
"Apple's terms for app developers require permission before tapping into the camera, and forbid using face data for advertising — but we're just at the beginning for this technology," Geoffrey Fowler said in his review for the Washington Post.
To Ive, the iPhone X is the first step, a release that changes a lot and signals where the company is headed next. In an interview last month, he described the phone as "a new chapter" in the product line's history.
In terms of software updates, though, Ive's comments are not that surprising. Apple launches a major iOS release every 12 months anyway, announcing its features at the annual Worldwide Developers' Conference in June before sending it out as a free update to existing iPhones sometime in the fall. Quite how the iPhone X will evolve, and what features will surface in next year's iOS release, is anyone's guess.
If you liked this article, check out this video on how smartphones are rewiring our brains.