Netflix's First Comic Looks Like 'Harry Potter' and 'Goodfellas'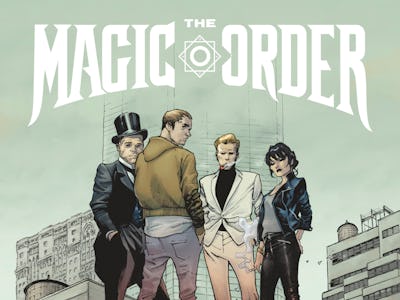 Netflix
Everyone goes to Netflix for TV and movies, but now the streaming giant is moving into a whole new realm: Comic books. As part of that big deal with comic book veteran Mark Millar announced earlier this year, Netflix has announced its first-ever original comic book series, The Magic Order.
Ditching the capes and cowls of most superhero comics, The Magic Order is a gritty modern fantasy, a mash-up of Harry Potter and Goodfellas where five families live and work as magicians who safeguard the world from darkness. The series, in which Millar collaborates with The Avengers artist Olivier Coipel, will be published in spring 2018 and will run for six issues in its first volume.
There is not yet any indication whether or not The Magic Order will become a live-action series on Netflix. But it only seems obvious, and inevitable, if the comic takes off. In his statement, Millar, who describes The Magic Order as a "dark fantasy," says there's a "gap" for this kind of material.
"We wanted to make a splash with our first book for Netflix and this is it," Millar said. "I love dark fantasy and there's an enormous gap in the market for something like this."
Earlier this year, Netflix announced it acquired Millarworld as a subsidiary. The creator-owned imprint inspired some of the biggest action movies of the decade, such as Kick-Ass, Wanted, and Kingsman. Millar himself is responsible for the source material that inspired some of Marvel's biggest hits, such as Captain America: Civil War and Logan. Now, Netflix has exclusive rights to Millar's original comics and is poised to adapt them into TV shows and movies. It is unknown which of Millarworld will get first dibs, but in a teaser video Netflix showed off American Jesus, Huck, Chrononauts, Reborn, MPH, Superior, Supercrooks, and Jupiter's Legacy.
The Magic Order #1 will be released in spring 2018.