Who Is Devin Patrick Kelley? The Suspect in the Texas Church Shooting
Kelley had a history of violent behavior.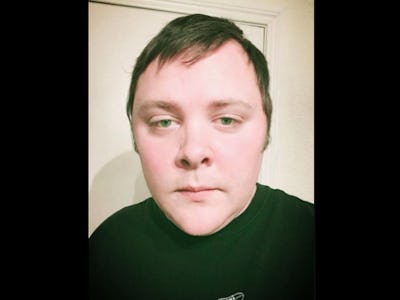 On Sunday, a gunman opened fire on the First Baptist Church in Sutherland Springs, Texas, killing 26 people. While details about the victims are still forthcoming, a profile of Devin Patrick Kelley, the alleged shooter who was found dead following the attack, has begun to emerge. Here's what we know.
Did He Have a History of Violent Behavior?
Kelley was 26, white, and had a history with the law. A former member of the U.S. Air Force, Kelley was discharged from the military in 2014 under dishonorable circumstances following a year in military prison for assaulting his wife and her child. According to the New York Times, he remarried in 2014.
The Washington Post reports that the same year Kelley was let go from the military, he was also charged with a misdemeanor count of mistreatment, neglect, or cruelty to animals in El Paso County, Colorado, where Kelley lived for a short time. The details of the charge weren't immediately clear, but the case was eventually dismissed.
The Times also reports that Kelley grew up in New Braunfels, Texas, about 35 miles north of Sutherland Springs, in his parents' nearly $1 million home. It appeared that Kelley had been residing there once more, and on Monday morning law enforcement was seen outside the home. Neighbors had reportedly been hearing the sound of rapid gunshots coming from the Kelley property for days.
How Did Kelley Obtain a Semi-Automatic Rifle?
In April of 2016, Kelley purchased a Ruger AR-556 rifle in San Antonio from a store called Academy Sports & Outdoors. A law enforcement official told CNN that when Kelley filled out a background check, he indicated that he didn't have a criminal history that would disqualify him from owning the weapon. He also listed his address as being in Colorado Springs, Colorado.
People with dishonorable military discharges are banned from buying firearms in the U.S. However, when Kelley was found in his car, officials said he was surrounded by numerous weapons.
Is There a Motive?
By mid-day Monday, the Times was reporting that Kelley had become estranged from his second wife, who occasionally was known to attend the church in Sutherland Springs. Law enforcement hasn't publicly commented on a motive in this mass shooting, but this story is still developing.
Kelley reportedly approached the First Baptist Church during Sunday service dressed in black and wearing tactical gear, including a ballistic vest. As he approached he began firing the Ruger assault-style rifle into the church before entering the building and continuing his assault. After an armed civilian began firing back at Kelley, he exited the church and a high-speed chase ensued.
After being pursued, Kelley was found dead, with his SUV in a ditch. Joe D. Tackitt, Jr., the Wilson County sheriff, told CBS News, "At this time we believe that he had a self-inflicted gunshot wound, after he wrecked out."
*