Sutherland Springs Church Shooting: What We Know as of Sunday Night
Shooter Devin Kelley killed at least 26 people in the church.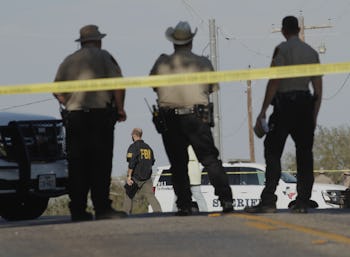 Getty Images / Erich Schlegel
On Sunday, a mass shooter in Sutherland Springs, Texas, entered a church and shot at the congregation during Sunday morning service at around 11:15 a.m. local time. Sutherland Springs is a small town about 40 miles east of San Antonio. Here's what we know so far about the shooting.
The victims. At least 26 people are dead, Texas Governor Greg Abbott told reporters in a press conference on Sunday, adding that he didn't know that number would rise. "This will be a long-suffering mourning for those in pain," Abbott said.
This makes it the fourth deadliest shooting in recent history behind the October 1 shooting in Las Vegas, the Pulse nightclub shooting in Orlando, Florida, in 2016, and the Virginia Tech shooting in 2007. The death toll has risen throughout the day. The town itself has a population of under 375, meaning a sizable proportion of the town's total population has been affected by the latest mass shooting in a particularly violent year.
"This guy came in around 11:15 a.m. and started shooting everybody in the church," Texas Attorney General Ken Paxton told reporters.
Most horrifically, some of the victims are confirmed to be children, and one was a pregnant woman. Only one of the victim's identities has been released to the public: ABC affiliate KSAT reported that Annabelle Renee Pomeroy, 14, was killed. She was the daughter of one of the church's pastors. None of the other victims' identities have been released to the public.
The shooter. The identity of the shooter is not known beyond his name. The New York Times cites two anonymous law enforcement sources who told their reporters that his name is Devin Patrick Kelley and was 26 years old. CBS News reported that he was "a former U.S. Air Force member who served from 2010 to 2014." He was court-martialed in 2012 and dishonorably discharged in May 2014. Kelley was fatally shot after a car chase with police, but it's not clear if he committed suicide or was shot by police.
The gun. It has not been revealed what type of gun he used. CBS received confirmation from law enforcement that the shooter was killed after a brief chase with police.
Police will investigate a motive, if any, in the coming days.
The law enforcement response. Police responded to the shooting and engaged in a short chase with the shooter after he fled the scene in a vehicle. The mass shooting will be investigated by the FBI, the Bureau of Alcohol, Tobacco, Firearms and Explosives, and the Texas Rangers.
This video is of the service held last weekend, posted by the church on its YouTube channel.
See also: Why "Thoughts and Prayers" After a Mass Shooting Can Ring Hollow