Stephen Paddock: 4 Key Facts About the Las Vegas Shooting Suspect
The attack has left 50 dead.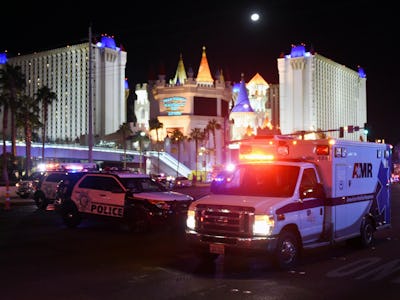 Getty Images / Ethan Miller
The suspected gunman behind Sunday's shocking attack has been identified. The Las Vegas Metropolitan Police Department has identified Stephen Paddock, a 64-year-old accountant, as the perpetrator of an attack in Las Vegas that left at least 50 dead and more than 400 injured.
According to the Vegas police, Paddock shot from the 32nd floor of the Mandalay Bay Hotel, where the Route 91 Harvest, a country music festival, was taking place nearby. His motives are currently unknown.
Here's what we know about Paddock:
Paddock lived in a number of different places
Paddock was a resident of Mesquite, a retirement community in Nevada of around 20,000 residents. Public records also show he was previously a resident of Texas and Alaska. Records show he lived in Mesquite, Texas, as recently as 2010, with addresses listed in Texas as far back as 1998, DFW CBS reports. He holds a Texas driver's license.
His house in Mesquite, Nevada, is being searched.
Paddock was in the hotel for a few days prior
Paddock had been staying on the 32nd floor of the Mandalay Bay Hotel since September 28. Police found 10 guns in his room. At the time of writing, it is unknown whether Paddock stopped housekeepers from entering the room.
"That is a matter for continued investigation," Sheriff Joe Lombardo told reporters.
He died of a gunshot wound in the hotel room, and police suspect he shot himself.
Paddock had barely any contact with police
The Mesquite police department said that they had no record of contact with him, not even for a traffic stop.
"We don't have a lot on Mr Paddock," Mesquite police spokesman Quinn Averett told The Guardian.
The only criminal record Paddock appeared to have was a minor citation, ABC News reports.
He had hunting and pilot licenses
Paddock had a pilot's license as well as a hunting and fishing license from Alaska issued in 2010. He owned two planes, NBC News reports.
Federal Aviation Administration records show Paddock was issued with a private pilot's license in 2003, with the ratings "airplane single engine land" and "instrument airplane." A February 2008 medical record said that he must have glasses available for near vision.