'Rick and Morty' Szechuan Sauce to Invade 'The Simpsons' This Week
Will the Szechuan Sauce Saga ever end?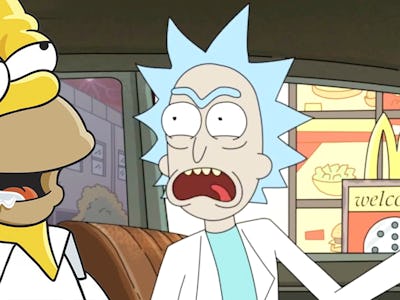 Rick Sanchez might not be able to find McDonald's Szechuan sauce in his current universe on Rick and Morty, but it looks like the condiment will invade The Simpsons later this week.
Al Jean, one of the writers on The Simpsons, teased an image via Twitter Thursday from an episode slated to air later on Sunday, and though blurry, it shows perpetual baby Maggie Simpson at the grocery store clutching what's unmistakably a jug of Szechuan sauce. Curiously enough, it bears a resemblance to the jugs that McDonald's sent to Rick and Morty co-creator Justin Roiland and three lucky fans.
So it's not quite a "crossover" per se, because the sauce comes from the real-world, but The Simpsons is very much offering up a nod to how prevalent Rick and Morty is in the cultural zeitgeist these days. The Simpsons always tries to be as revelent as possible. Adult Swim's show is popular enough for McDonald's to bring back the sauce en masse this winter, so it kind of makes sense that one animated comedy series would pay homage to another:
This isn't even the first time Rick and Morty had some interaction with The Simpsons. In 2015, Rick and Morty appeared in a Couch Gag for The Simpsons episode "Mathlete's Feat." Morty crashes Rick's spaceship into the family while they're all seated on the couch. Rick's completely aware that The Simpsons is a TV show, calling them a "national treasure."
While Rick "cleans up the house" (drinks all of Homer's beer), he sends Morty to have some clones made by a Garblovian vendor that specializes in the process.
The haphazard replacement clones leave much to be desired:
The upcoming Rick and Morty nod on The Simpsons will probably be far less disturbing than this one, and as cool as it is, it just has us hungry for some real-life Szechuan sauce.
The Simpsons episode "Grampy Can Ya Hear Me" airs Sunday, November 5 at 8 p.m. Eastern on Fox.
Who knows when the next Rick and Morty episode will air.
You'll be able to try some Szechuan sauce sometime this winter at McDonald's.
If you liked this article, check out this video on how to write an episode of Rick and Morty.