New 'Simpsons' Episode With 'Pokemon GO' Gets Banned in Russia 
If they had their way, Homer would be in prison.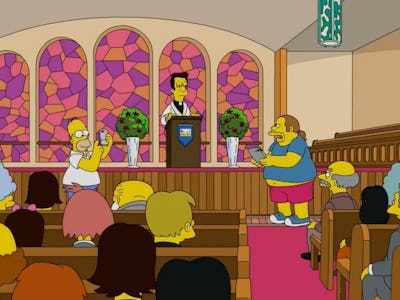 Simpsons
The most recent episode of The Simpsons — "Looking for Mr. Goodbart" — has been banned in Russia for featuring a scene in which Homer plays a version of Pokémon GO during a church service. If the Russians had their way, Homer would face some serious jail time for the crime.
The Russian TV network 2x2 canceled the airing of the episode for fear that it might "compromise the network" and "cause controversy." The network was supposedly under pressure from the Russian Orthodox Church, with Archpriest Andrei Novikov specifically referring to the episode as "Hollywood propaganda."
The episode in question — which is more about Bart learning the benefits of hanging out with the elderly — depicts Homer and many Springfielders trying to catch "Peekimons," like "stunk" and "rottata," in the mobile game Peekimon Get. In the offending scene, Homer and the Comic Book Guy wander right into the middle of a church service, and when the priest protests, Comic Book Guy says that the game is "bigger than Jesus." And the priest just sort of resigns himself to that being the truth.
It's a scene that's all too resonant in Russia, where in September 2016, Russian blogger Ruslan Sokolovsky was arrested for playing Pokémon GO during a St. Petersburg church service. His punishment is expected to be anywhere between three and five years of jail time. The specific charges are "insulting the feelings of believers," which makes it clear that in Russia, playing games on your mobile devices during church is strictly prohibited.
Notably, this isn't the first time Homer's played an AR mobile game in which he catches monsters. In the initial peak Pokémon GO craze, Homer was depicted reciting the names of several actual Pokémon that he was catching while ignoring the "real" animals around him at the zoo.