iPhone X Early Hands-On Review Reveals the Trick to Get Face ID to Work
Apple's next smartphone may struggle to scan your face.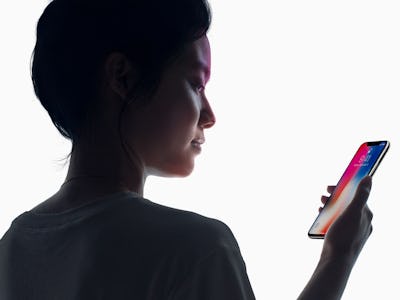 Apple
Apple's iPhoneX marks the debut of the company's new Face ID security system — but it's far from perfect, a pre-release impression published Monday reveals. Journalist Steven Levy was able to try the phone out ahead of its launch, but found the face scanner slightly temperamental. A response from the company has received criticism for shifting the blame onto the user.
Levy, a Wired journalist that was also one of the first reviewers of the original iPhone ahead of its summer 2007 launch, was invited by Apple to write the first pre-release first impression of the device. In his article, he said Face ID "seems reliable at fending off intruders," but at times the phone "ghosted" Levy despite having "a clear view of my face."
The $999 device, set to launch Friday, uses an innovative face scanning system that works similar to Xbox Kinect. It's uncharted territory for Apple, which for the past four years has opted for a fingerprint scanner on its flagship smartphone, and all eyes are on this week's launch to see how the new feature fares in real world use. Unfortunately, it seems Face ID may bear the marks of a first-generation outing.
As Levy explains, the iPhone X may require you to do a Robert de Niro impression just to get it to unlock.
"Eventually I devised a strategy," Levy said. "When waking my iPhone I think of it as De Niro's mirror in Taxi Driver. You talkin' to me? Well, I'm the only one here! I then see if the little lock icon on the screen has released its latch."
Apple told Levy that he may not be making what the device considers "eye contact." This restriction is beneficial as it means the phone will only unlock when it's clear that the user definitely wants it to, but it does bear some similarities to the classic response Steve Jobs gave when a customer complained about their iPhone 4 in 2010. Jobs, who received an email that asked why the phone loses reception when a hand is placed over the steel bands, said that the customer should "avoid holding it in that way."
Levy's issues with Face ID have already drawn comparisons to Jobs' email:
Twitter user "TheOnlyJDB" said that both responses serve to shift the blame onto the user:
Despite the initial struggles, Levy was ultimately positive about the new feature.
"Once I got the hang of it, I found I could dial down the De Niro and get it to unlock more naturally, though I am still mystified that sometimes it goes straight to where I left off and other times asks me to swipe up," Levy said. "And I really liked Apple Pay with iPhone X—having to double-click on the side button and then use Face ID was a clearer way to do transactions."