'Sesame Street' Threatens to Spoil 'Stranger Things 2' in Upcoming Parody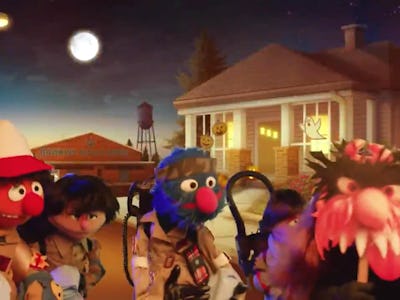 Sesame Workshop / PBS
Stranger Things 2 only hit Netflix on Friday, but an upcoming parody from Sesame Street is already planning to spoil it all — in a month's time.
On Friday, the Sesame Street Twitter account tweeted a video announcing the Stranger Things parody, which will be titled Sharing Things and air on Thanksgiving (November 23). At the very beginning of the video, the parody's intentions become clear when everyone's favorite grouch, Oscar, says, "Hey, you. Yeah, you. This is your spoiler warning." He continues: "That's right, we have all the rotten, trashy spoilers for Season 2 of Stranger Things."
Naturally, the video features Sesame Street spins on the second season of Stranger Things, with Grover as Lucas, Ernie as Dustin, and two other Muppet characters all dressed up as Ghostbusters. There's also a giant Muppet octopus in the sky. Surprisingly, the Sesame Street character perhaps best suited to the world of Stranger Things, Cookie Monster, is nowhere to be seen, but he could always show up elsewhere in the parody.
Sesame Street is no stranger to parodies. Over the years, they've done parodies of things like Star Wars (Star S'Mores) and House of Cards (House of Bricks). Most recently, they did one of The Walking Dead (The Walking Gingerbread).
It seems pretty safe to say that Sesame Street isn't about to do a beat-for-beat retelling of Season 2, or drop any major spoilers. But with a month to go until Sharing Things comes out, viewers should be in the clear either way.
Sharing Things will air on Thanksgiving (November 23). Stranger Things Season 2 is available to stream on Netflix now.