Why the 'Thor: Ragnarok' Post-Credits Are So Unusual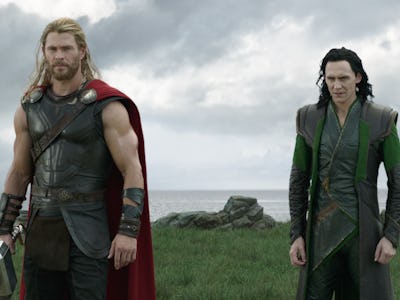 Marvel Entertainment
As is tradition in the Marvel Cinematic Universe, there are post-credits scenes in Thor: Ragnarok, the final installment of Marvel's Thor trilogy. So what can we learn from the two additional scenes after the movie properly wraps up? We theorize below.
First of all, yes, Thor: Ragnarok ends with an obvious set-up for the fight against Thanos in Avengers: Infinity War. That film, which hits theaters in May 2018, will be the culmination of everything that's come before in the Marvel Cinematic Universe, including both of the last two Thor movies. But that's the mid-credits scene. The post-credits scene is an epilogue to the events of Thor: Ragnarok, featuring Jeff Goldblum's Grandmaster in a very precarious situation.
With only one movie left before Infinity War — Marvel's Black Panther leaps into cinemas in February — of course Thor: Ragnarok had to do a little heavy lifting to set-up Thanos's arrival. For those who aren't totally up to speed on the MCU, though, we've got an explanation for the two extra scenes.
Obviously, spoilers for Thor: Ragnarok are below.
The Mid-Credits Tag: Thanos Has Arrived
The prophecy of Ragnarok came true. Asgardians are now a people without a home. Luckily, Thor (Chris Hemsworth), their new king, has successfully rounded them up into one of the Grandmaster's giant ships. All of Asgard are now on their way home to Thor's newest home, Earth, to claim a place of their own. (Maybe Norway?) But that's when trouble arrives.
As Thor and Loki (Tom Hiddleston) relish in their victory, a giant spaceship with the very clear design and silhouette of Thanos looms overwhelmingly large, dwarfing Thor and Loki's ship. As the leaked teaser for Avengers: Infinity War reveals things may not end well for this ship. Or it doesn't. Either way, in the beginning of Infinity War Thor is thrown across space and ends up on the windshield of the Guardians of the Galaxy's ship.
The arrival of Thanos, who will collect the Infinity Stones to kick off Avengers: Infinity War, was only inevitable given that the next Avengers film is due in theaters next May. The last film in Marvel's schedule, Black Panther, will generally be removed from the more cosmic side of the MCU.
The Actual Post-Credits Scene: The Grandmaster's Revolution
Throughout the film, Thor and Loki lead a "revolution" against the tyrannical Grandmaster (Jeff Goldblum), who made use of slaves (though he hates that "S" word) as gladiators in his arena. With his power overthrown, the Grandmaster, and two of his lady friends, wind up in the same trash heap that Thor found himself earlier in the film. Without power and money to back him up, the Grandmaster tries desperately to curry favor again.
That's when the film ends, leaving it up to you to figure out the fate of the Grandmaster. In an interview with Radio Times, Goldblum theorizes what will happen next:
If you stay 'til the very end, the end credits, you see me do a bit of improvised, Taika Waititi-inspired and directed, bit of improvisation. It looks like my ship has gone down, and I'm surrounded by the rebels. And it's me against all of them. But I'm the Grandmaster. I'm immortal. You can't kill me, you can't even hurt me. I can … do away with them, and then I can resurrect them if I want. So whatever I'm going on about [in the scene] is just for my own amusement.
It's for our amusement, too.
Thor: Ragnarok will be in theaters on November 3.