Why 'The Walking Dead' Was Dedicated to John Bernecker and George Romero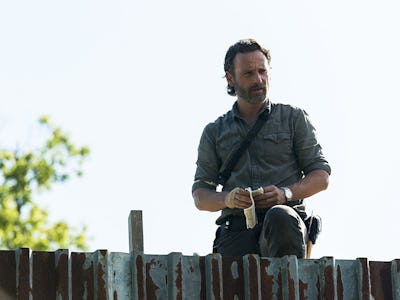 AMC
The Season 8 premiere of AMC's The Walking Dead, "Mercy," ended with the first victory for Rick Grimes in his war against Negan. But it's the show's dedications in the end credits that has fans curious. The first episode of the newest season is dedicated to John Bernecker and George Romero. While any self-respecting zombie fan knows who George Romero is, John Bernecker is considerably less well-known. But, Bernecker's hits much harder for the hit series than the iconic horror filmmaker's passing.
John Bernecker
Back in July, production on The Walking Dead Season 8 was temporarily suspended when an accident occurred on the Atlanta set. During a rehearsal, stuntman John Bernecker fell 30 feet onto a concrete floor. He was pronounced brain dead at the Atlanta Medical Center and was taken off life support a few days later.
"We are saddened to report that John Bernecker, a talented stuntman for The Walking Dead and numerous other television shows and films, suffered serious injuries from a tragic accident on set," AMC wrote in a statement. "He was immediately transported to an Atlanta hospital, and we have temporarily shut down production."
In addition to The Walking Dead, Bernecker performed stunts in movies like Black Panther, Logan, The Fate of the Furious, and the horror film Get Out.
George Romero
The master director of Night of the Living Dead, who also passed away in July, needs no introduction. But fans may be interested to know that George Romero wasn't actually a fan of the hit zombie drama.
Though the producers did approach Romero to be involved somehow, Romero declined, citing he had a different vision over what the zombie drama means. "Basically it's just a soap opera with a zombie occasionally," he told The Big Issue in a 2013 interview. "I always used the zombie as a character for satire or a political criticism and I find that missing in what's happening now."
Still, Romero's significance as the director of the classic film Night of the Living Dead earned Romero recognition by The Walking Dead producers. "The debt that the show has to Mr. Romero — everybody sort of thought about it at the same time," showrunner Scott Gimple told Entertainment Weekly. "Everybody felt the same way at the same time instantly. The show owes a great debt to him and popular culture owes a great debt to him."
The Walking Dead airs Sundays at 9 p.m. Eastern on AMC.