Relive 5 of George A. Romero's Most Iconic, Gory Horror Moments
Remembering some of the godfather of modern zombies' best work.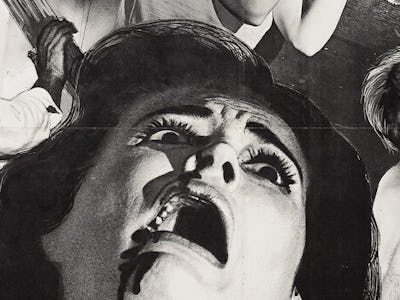 Rubin Museum of Art
The unintentional creator of the modern zombie, George A. Romero, died on Sunday, July 16, of lung cancer in his sleep. Often termed the "godfather" of zombies, Romero following what his family described as a "brief but aggressive battle with lung cancer," according to a statement provided to the L.A. Times.
In honor of Romero, it seems appropriate to revisit some of the most disturbing scenes and themes from his 50-year career.
A writer, director, and producer of iconic horror films, Romero was lauded as an innovator of subversive cultural themes in horror films after Night of the Living Dead premiered in 1968. And while zombies weren't anything new, Romero reimagined them as disease-carrying, shambling creatures of the night, giving birth to an apocalypse genre that continues today.
Among Romero's non-zombie works in the horror genre are The Crazies (1973), Martin (1978), Creepshow (1982), Monkey Shines (1988) and The Dark Half (1993). But follow-ups to Night of the Living Dead, such as Dawn of the Dead (1978), Day of the Dead (1985), George A. Romero's Land of the Dead (2005), Diary of the Dead (2007), and George A. Romero's Survival of the Dead (2009), accounted for the majority of his time.
Without further ado, here are 5 of George Romero's most important, gory scenes in horror.
5. Zombie Attack in Land of the Dead
While the zombie assault on Pittsburgh, Pennsylvania, in Romero's 2005 film, Land of the Dead, is a bit of a mess, it's a glorious one. The survivors in the film have fled to the Golden Triangle in downtown Pittsburgh, protected by two rivers and an electrified fence, but their feudal government can't keep them safe forever, and the zombies soon learn that they can cross the river and attack the city. The electric fence acts as a trap for the humans, and there's a lot of gutting, tearing, and screaming.
4. Opening Cemetery Scene in Night of the Living Dead
Now, the opening scene of Night of the Living Dead isn't too graphic, but it certainly terrified a lot of people back in the day. There's no blood, but this was one of the world's first introductions to the idea of the undead on screen (not termed "zombies" by Romero). In the scene, one of the undead stumbles through a local cemetery, kills a man, and chases a woman down as she tries to drive away. That kind of chase — humans using cars to hide from zombies only to be further attacked by them — is classic at this point, but there was no way Romero could have known the impact he would have.
3. Knitting Needle Stabbing in The Crazies
Written and directed by Romero, The Crazies is a sci-fi horror-action film that failed horribly at the box office, but that has since become a cult horror classic. It was remade in 2010. A small town is inundated by a military experiment, a virus code-named "Trixie," that causes victims to either die or become homicidal (turning them into the titular "Crazies"). In one scene, a group of experts runs into a house to save people only to find an elderly woman who's been infected. She stabs them with her knitting needles before going back to her yarn and rocking chair.
2. Everything About "The Raft" in Creepshow 2
Romero wrote the screenplay for Creepshow 2, adapting three of horror maestro Stephen King's short stories ("Old Chief Wooden Head," "The Raft," and "The Hitchhiker") into live-action and animated shorts. The creepiest of the three, by far, is "The Raft," which tells the story of a group of friends who go swimming when they're not supposed to and get absorbed by an unexplainable oil slick in the water. They turn on one another and, in the end, the last one doesn't survive after he sexually assaults his female friend.
1. Matricide in Night of the Living Dead
Poor little Karen Cooper is bitten by one of the zombies pretty early on in Romero's 1968 classic, and her mother and father find shelter with Tom and Judy at the farmhouse. Soon enough, Karen dies, reanimates, and eats her father, Harry. Soon, Karen's mother, Helen, finds her, begs her to stop eating Harry, and gets attacked with a trowel. Karen guts her mother, blood spewing everywhere, with her mother's screams fading into static.