George A. Romero, Creator of the Modern Zombie, Dies at 77
The 'Night of the Living Dead' director changed horror forever.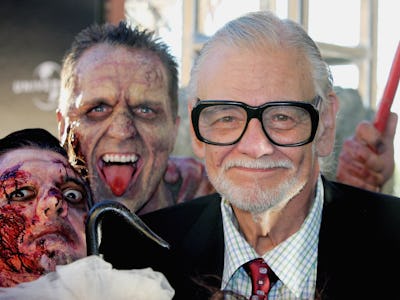 Getty Images / Ethan Miller
George A. Romero, an innovator in the horror movie genre who essentially introduced us to zombies as we know them, has died at the age of 77. The legendary director died in his sleep on Sunday, following a "brief but aggressive battle with lung cancer," according to a statement provided to the L.A. Times by his longtime producing partner, Peter Grunwald.
Romero died with his wife, Suzanne Desrocher Romero, and daughter, Tina Romero, at his side, his family said. At the time, he was listening to one of his favorite film scores, 1952's The Quiet Man.
Romero is best known as the father of the zombie genre. His low-budget, breakout film Night of the Living Dead became a touchstone when it broke onto the scene in 1968. As a horror film, the movie made waves for a number of reasons; the zombies were interpreted as anti-counter culture "living dead", Romero's straight casting of an African American lead, and the film's heavy violence and gore among them. Whether intentionally or not, the film set a precedence that encouraged the subversive and political undertones seen in many horror films thereafter.
Although the zombie had been present in films before, Night of the Living Dead reimagined them as disease carrying, flesh-eating, walking corpses, creating an apocalypse genre that would be go on to inspire everything from 28 Days Later to The Walking Dead. 
Romero went on to helm many more zombie "sequels", including 1978's Dawn of the Dead, 1985's Day of the Dead, 2005's George A. Romero's Land of the Dead, 2007's Diary of the Dead and 2009's George A. Romero's Survival of the Dead.
He also directed other horror classics like 1973's The Crazies, 1978's Martin and 1982's Creep Show.
Here's the mastermind himself talking about the impact of Night of the Living Dead in 2012 at the TIFF Bell Lightbox in Toronto.