'The Walking Dead' Stuntman Dies Following On-Set Injury
John Bernecker is believed to be the first victim of a stunt-related death in the United States in 17 years.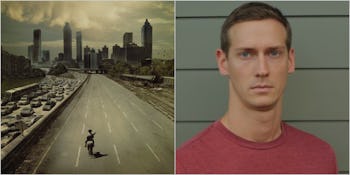 AMC/Twitter
A stuntman working on AMC's popular zombie series The Walking Dead died due to massive head injuries he sustained after a fall on Wednesday. The stuntman, John Bernecker, is believed to be the first victim of a stunt-related death in 17 years.
According to Deadline, Bernecker and another Walking Dead actor were rehearsing a fight scene for the upcoming eighth season of the show. The fight was supposed to end with a staged fall from a balcony, but Bernecker reportedly lost his footing and fell 30 feet onto a concrete floor below. He was pronounced brain-dead at the nearby Atlanta Medical Center and was taken off life support on Friday.
AMC temporarily halted production of The Walking Dead after the fall, releasing a statement on Thursday:
We are saddened to report that John Bernecker, a talented stuntman for The Walking Dead and numerous other television shows and films, suffered serious injuries from a tragic accident on set. He was immediately transported to an Atlanta hospital, and we have temporarily shut down production. We are keeping John and his family in our thoughts and prayers."
Bernecker had worked as a stuntman since 2009, having performed in movies including Logan (where he also had a small acting part), Goosebumps, and three of the Hunger Games movies. IMDB says he did work on the upcoming Black Panther and Rampage films.
Stunt deaths are increasingly rare in the United States. The last reported death due to a stunt took place in 2000, when Brady Michaels fell from a stationary train and hit his head on a rock while rehearsing for the UPN reality show I Dare You.
The Walking Dead Season 8 does not have a premiere date yet.