'Stranger Things 2' Reviews Praise a Darker, More Frightening Sequel
Season 2 falls prey to some typical sequelitis problems but succeeds more often than it fails.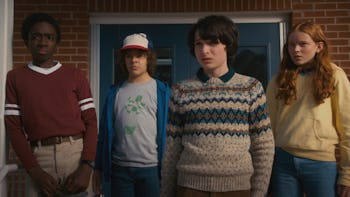 Netflix
You can rest easy because by all accounts, Stranger Things Season 2 — actually called Stranger Things 2 — delivers a new adventure that's bigger and just as good as the first. It's probably not better, but when '80s nostalgia fused with sci-fi is this good, a small amount of sequelitis can't keep Stranger Things down.
It's been one year since a small band of people rescued Will Byers from the Upside-Down dimension and brought him back to Hawkins, Indiana, but most people in the town remain blissfully unaware. Naturally, things go south (or perhaps Upside-Down) again for Season 2.
Many reviews ahead of the October 27 release of Stranger Things 2 praise an exciting new season that some call more "frightening" than the first. After a slow first few episodes, the pace quickly picks up to deliver on a satisfying conclusion with an excellent final two episodes. Everything feels more mature, the young cast included, for a new adventure more terrifying than the first.
Alan Sepinwall from Uproxx notes that Stranger Things Season 2 suffers from typical sequel growing pains, with the Duffer Brothers "using the interlocking principles of "the same, but slightly different" and "the same, but more." The result is, apparently, more of the same, but considering how well Season 1 worked, nobody seems to be complaining.:
"Again and again, there are echoes of things the audience responded to the first time around. Where once the walls of the Byers house were covered with Christmas lights that Joyce used to communicate with Will while he was missing, this season it's a series of crayon drawings that take a while to decode."
But it's the characters that keep the whole thing afloat:
"Fortunately, the Duffers have a collection of vividly drawn characters, and a terrific ensemble to play them, which gives weight to all the allusions to both '80s pop culture (the Aliens homages go well beyond the casting of Reiser) and season one."
Sepinwall praises the many "odd couple pairings" that includes a reformed Steve and Dustin, but he also praises the casting across the board, saying, "As much as it's about nostalgia, Stranger Things is a testament to the power of good casting, and also to learning more and more how to write for the performers you've cast." We've come to expect a strong performance from actors like Winona Ryder, but even the younger actors deliver.
Julia Alexander at Polygon argues that Season 2 brings a fresh feel to the show: "Rather than plugging in more puzzle pieces, Stranger Things 2 abandons many of the first season's setups to focus on a new direction." Alexander notes the presence of "obvious connections" between Seasons 1 and 2, but that the new season "deviates from the attitude and generic makeup that defined the first."
The Stranger Things kids were justifiably immature in Season 1, but after a year since their harrowing ordeal with the Upside-Down, they've all gotten a bit older. Alexander references a "somber maturity" in the entire cast. In Mike, this manifests as a level of reclusive unlikability that Sepinwall compared to Harry Potter in Order of the Phoenix.
Lauren Piester at E! News explains this as a key way that Season 2 avoids the sophomore slump, saying that much like the kids, the show itself has grown: "It somehow also feels a little older, a little bigger, a little cooler, and a little more sure of itself, though it hasn't lost that wide-eyed sense of wonder and adventure."
Stranger Things 2 still has moments that "feel a little slow or confusing or messy," mainly in introducing new concepts and characters while still trying to tackle season-old mysteries. But despite any shortcomings, the end product is totally worth it: "The payoff is so worth it that you forget about any of that by the final scene, and it's hard to feel anything but satisfied by the time it's all over … even if there's inevitably something sinister still looming out of sight."
Writing for Variety, Maureen Ryan argues, "Until Stranger Things 2 really gets going — and that takes a while — it trails an air of self-consciousness that veers into strained fan service at times." Ryan notes that after a "clunky" first few episodes, "the drama's momentum picks up noticeably."
Ryan astutely reminds us what many forget so easily: Stranger Things is "a story that is, at its core, about profound and lasting trauma," and Season 2 dives deeper into that focus: "The men, women and children of Hawkins have PTSD or worse, and the pop-culture trappings help lighten the earnest examinations of painful memories and harrowing relationships." Sure, Will Byers has horrifying visions of the Upside Down and the apocalypse, but everyone else grapples with their own trauma in personal ways.
Stranger Things 2 will be available to stream via Netflix on October 27, 2017.