Xbox One X Just Got a Big 'Halo' Reveal, and It Sounds Incredible
Master Chief in 4K resolution.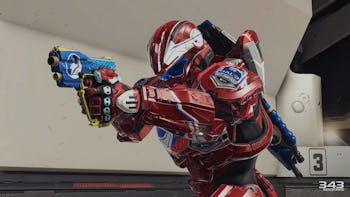 Xbox
The Xbox One X is going to support some blockbuster games when it launches on November 7, with first-person shooter series Halo officially joining the list.
On Wednesday, developer 343 Industries officially revealed that Halo: The Master Chief Collection will get an Xbox One X boost. The collection, which launched in 2014, includes graphically updated versions of Halo: Combat Evolved and Halo 2 alongside Halo 3 and Halo 4.
While Microsoft's $499 console will play all regular Xbox One games, only a select few will come with enhancements that take advantage of the more powerful components. Support for 4K resolutions, improved graphics, and higher frame rates are just some of the opportunities presented by what Microsoft has declared "the world's most powerful console."
The Halo upgrade is a major announcement for Microsoft, as it seeks to convince players that the Xbox One X is a crucial improvement over the $249 Xbox One S. The franchise is huge for Microsoft, and the Master Chief character is probably the closest figure the Xbox has to a mascot. In 2015, it was revealed the series had sold 65 million units in total.
The company also promises the update will include "fixes, improvements and upgrades to the core game to help bring it forward and modernize many of the game's systems to take advantage of Xbox platform advancements since its original launch." The update will come in phases, as 343 Industries tests the changes through a "flighting" program starting next spring.
The studio has also been working with development partners SkyBox Labs on an update for Halo 5, the newest entry in the main series that launched last October. The update includes the return of the Oddball game mode alongside a new local server map, weapons tuning, and 4K resolution on the new console.
An update is also coming to real-time strategy game Halo Wars 2 to support 4K resolutions on the Xbox One X. The game already supported the mode on its Windows 10 PC version when it launched in February, so this update will take the existing work and bring it over to the console. Players on both platforms will also soon be able to play against each other.