'Chipocalypse' in New Zealand as Wild Weather Spikes the Price of Potatoes
The shortage is set to last until next year.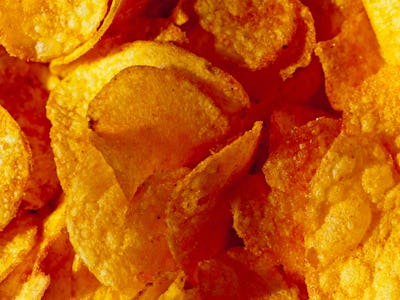 Flickr / mhaller1979
The "chipocalypse" has reached New Zealand, after heavy rain caused a shortage of potato crops and a spike in prices. Supermarkets have been forced to place signs in their chip shelves, explaining to hungry customers why the beloved snack is out of stock.
"It started raining in March, and it just simply hasn't stopped," Chris Claridge, head of trade association Potatoes New Zealand, told Radio Live NZ. "Potatoes are actually alive — they need to breathe. And so, effectively, they drown and then they start to rot… because they're submerged in water."
New Zealand is one of the largest exporters of potatoes in the world, producing around 500,000 tonnes a year. But two major floods have wiped out around one fifth of crops, with some regions seeing 30 percent of crops destroyed.
Around 75,000 tonnes of potatoes are made into chips every year, which means these shortages will will havea detrimental effect on the snack:
This shortage of potatoes has filtered down to food prices. In New Zealand, wIn New Zealand, where a kilogram of potatoes cost $1.28 last August, it's now shot up to $1.67 this year. Potato chips are even scarce on shelves. Potato chips are even scarce on shelves.
"This year has been very unusual, we haven't experienced anything like it and it has really caught a lot of us out," Bharat Bhana, a farmer near Auckland that has seen about a third of his crop destroyed, told The Guardian. "I don't know how we can prepare for climate change. We could dig the spuds out earlier but then we wouldn't have enough space to store them and we'd have to pay more to keep them cool."
The crisis comes as New Zealand politicians aim to form a coalition government after an election on September an election on September 23 that left the National Party as the largest with 56 seats, but short of the 61 seats needed for a majority.
"You can go for a week without politics but try going for a week without potatoes," Claridge told The Guardian. "It is a food staple and this is becoming a food security issue as the effects of climate change take their toll on our potato crop."
With summer on the way soon, New Zealanders will be keen to stock up on chips for barbeques and outdoor parties. The shortage has led people to drastic measures, with some considering inferior snacks as a substitute.