Watch This Trump Aide Become "IT" on SNL
Is really that much of a stretch?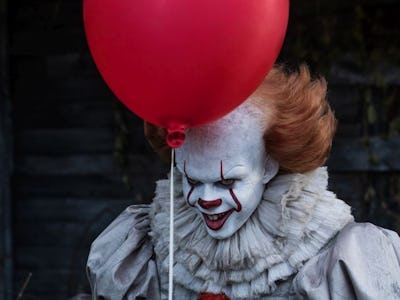 Courtesy of Warner Bros.
Saturday Night Live is one of the few things keeping us sane during this garbage fire of a year. 2017 has truly been a challenge, but mocking the very things that make us cry ourselves to sleep is one of the few ways we'll make it through the next few months.
Remember Kellyanne Conway? She blessedly hasn't been in the news much lately — with all the Game of Thrones-level palace intrigue in the White House, maybe one of the few adults in the room has decided to reign in the progenitor of alternative facts. But SNL depicts Conway as a creature-in-waiting, lurking for the right moment to ensnare cable news anchors for guest spots on their shows. And really, is it that much of a stretch from the truth?
The sketch opens with Anderson Cooper, played by Alex Moffat, finishing a broadcast of Anderson Cooper 360° on CNN. His producer gives him a list of the next day's bookings, and Anderson wonders if they've found someone the third segment of the show. "Well, I know Kellyanne has been making the rounds," the producer replies, and Anderson haughtily suggests that CNN isn't that desperate. We all know he's tempting fate with that remark.
It's a rainy night as he exits the studio, so Cooper puts on a bright yellow raincoat. As he walks down the street, he drops the paperwork that his producer gave him, and it floats down towards a gutter. This is where he encounters Pennywise, because that is where Pennywise lives, and Pennywise is terrifying.
The clown takes the form of Kellyanne Conway, played by the inimitable Kate McKinnon, begging for a slot on his show. "I'll give you quote, I'll give you crazy, crazy quote," she says, in effort to convince Anderson to book her. Pennywise improvises some truly frightening material: "Puerto Rico is actually better off after the hurricane," but Anderson is not impressed. It's only when Pennywise transforms into Hillary Clinton (again, played by McKinnon), who tempts Anderson with a copy of her book What Happened, that Anderson falls for the gimmick. He's then grotesquely maimed by the evil clown…until he wakes up. It was all just a dream.
Or was it? Anderson is horrified to see Kellyanne Conway booked as a guest on his show, echoing that fear all of us have when she appears on TV. "Let's give them a good show, right?" she says cooly, and Anderson dissolves into screams.
Honestly, this is one of SNL's better sketches lately, and we're excited to see its latest season starting off so strongly. It's not like they're hurting for material. Check out the full video below.