'New Mutants' Director Says Two Missing Characters Will Appear Eventually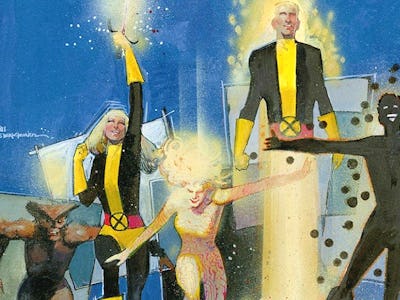 Marvel
We only just got a trailer for The New Mutants, the upcoming X-Men horror film. But, people are already looking ahead to what's next for the franchise, as fans are wont to do. Naturally, there are plans for popular New Mutants who aren't going to be in the first film to appear somewhere down the line.
Speaking to IGN in an interview posted on Friday, director Josh Boone confirmed two New Mutants he plans to introduce in future films. "Every video complains online about characters that aren't in it right now. I will say we're going to introduce new characters in the next movie as well," Boone said. "Characters like Karma and Warlock, and all that will be in future movies."
Karma (Xi'an Coy Manh) is the only founding member of the original New Mutants team who won't appear in the first film. The Vietnamese mutant has the power of mind-control. Meanwhile, Warlock is a member of the alien race Technarchy, who can shapeshift and survive by transmitting a virus to living creatures, and then taking their life force. Due to his compassion, Warlock generally doesn't drain creatures of their life force, which results in him being called a mutant in spirit. Only later does he find out that he's actually a mutant compared to his own kind, though he doesn't seem to have any abilities atypical of a Technarch.
In the same interview, Boone explains that each New Mutants film will be a different kind of horror movie, so it'll be cool to see what a bonafide alien and a mind-controlling hero are able to bring to the table. For the time being, though, I'm sure many people would be content to see more of the first New Mutants film, before speculating on what's next.
The New Mutants is scheduled for release in the U.S. on April 13, 2018.