'Arrow' Cinematographer: Crossover Will Be "Very Challenging"
Season 6 won't be as dark, literally, as previous years.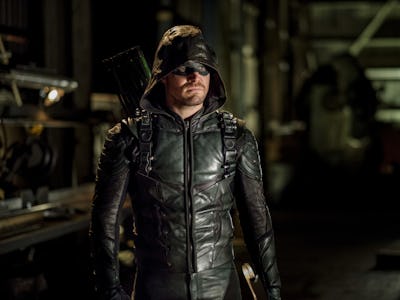 The CW
Bruce Worrall says he is a cog in the machine. It isn't as bleak as it sounds. As one of the new cinematographers for the long-running series Arrow, which returned Thursday night on the CW, Worrall says he's come aboard a well-oiled machine that creates 20-plus episodes every year. It's his job just to find his place among the orderly chaos.
Ahead of the show's sixth season premiere on the CW, Worrall told Inverse that, in spite of the long hours and busyness of the whole thing, "it was quite comfortable" to slip right in. "This is Season 6, so there's a lot of people who have remained with the show for that time," he says. "It's been around long enough [that people go] 'This is how the show works and how it goes,' so it's just me sitting back long enough to understand the moving parts and take my place within that and carry on."
Educated in Vancouver before studying at the London Film School, Worrall has returned to his roots in Vancouver for Arrow, the CW series based on the DC Comics superhero Green Arrow. He previously got his feet wet with the Arrowverse on a single episode of The Flash, but Arrow Season 6 has him for every other episode. (He shoots the even number episodes, while Arrowverse staple Gordon Verheul shoots the odds.) As the newbie, Worrall said he consulted with the veteran Verheul as much as he could until the show's breakneck production speed basically forced him to think on his own feet.
"When he [Verheul] was shooting his first episode, I would come on to set just to see, this is how you do that, and so on," Worrall explains. "I was grounded in that and if I had questions I would ask. We communicated quite a bit. Once the show starts rolling there's really no time for that. But I would talk to the producers, 'Is this what you were hoping for?' So far it's worked out okay."
Things got especially interesting for Worrall when it was his job to shoot the Arrow episode to the epic four-show crossover, "Crisis on Earth-X." Although Worrall wasn't allowed to disclose what's in the episode, he described it as a significant "challenge" that posed all sorts of difficulties.
"I'm talking to the next director who's doing that," Worrall says about the crossover. "I think it's going to be very challenging. How can you keep each superhero in their grounded world but have them work together? I can't honestly answer that but I think it will be a challenge."
Another challenge for Worrall has been adapting to the literal darkness of Arrow. Dimly lit parking lots, alleyways, abandoned warehouses, these are just a few of the settings Arrow takes place in and will again in the sixth season. Worrall has experience with mature-oriented shows like Strange Empire and Human Target in Canada, but the cinematographer still found Arrow a learning process.
"For me, dark doesn't mean I can't see anything. Darkness is a function of contrast within the shot or frame," he says, echoing the same principles comic book artists often adhere to. "You can still see what you need to see clearly, but perhaps something else is dark. It has that feeling of darkness but you can see the characters and the action. I get frustrated when things are so dark you can't see anything. But here you see exactly what you need to see. That's what I strive for. See what you need to and have the impression of darkness as a mood."
Worrall is honest about the source material he looks at when shooting films and TV: He never has any. "I personally don't like working that way," he says, "I don't like setting myself up for this is what we should do." Particularly with Arrow, Worrall says he spends more time looking at comics for "angles that make sense or shots that make sense in a comic book superhero realm." But don't get excited thinking Worrall refers to the architects of Green Arrow like Dan Jurgens or Scott McDaniel, or even current artists Juan Ferreyra and Otto Schmidt. "There's no DC Comic book that I've pull of the shelf that I looked at that has [my] style," he says. It's the comic book-ness of the thing, the mature comics he says his daughter reads that he uses for referencing.
Like a real superhero vigilante, Worrall says the job of shooting Arrow isn't a walk in the park. Just after he spoke with Inverse, Riverdale star KJ Apa was injured in a car accident because he fell asleep at the wheel due to exhaustion. His accident has caused a stir online, in which film industry people are urging for reasonable work schedules. Until then, Worrall has many sleepless nights ahead of him.
"They don't see the 15 hour days. They don't see starting work at four in the afternoon and coming home at seven in the morning," Worrall says about the work that goes into making binge-able productions. "They don't see the physical grind, what it takes to put it together. There's so many hours of preparation before anything happens. They see the sum of many hours. You don't see the faces behind it. It seems like a glamorous profession but when it's five in the morning, it's not all that glamorous."
Arrow airs Thursdays at 9 p.m. on the CW.