Tim Cook: AR Will Spark 'Dramatic' Boom of Innovative iPhone Apps
"You couldn't imagine your life without apps," Cook said.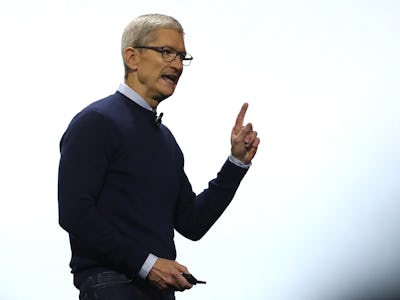 Getty Images / Justin Sullivan
Augmented reality will herald a new era in apps comparable to the original iPhone's developer rush, Tim Cook has claimed. The Apple CEO said in an interview that the pattern with the App Store's launch in 2008, where a couple of small apps suddenly led to a boom, would repeat itself as companies get to grips with the new ARKit tools found in iOS 11.
"It is sort of a curve, it was just exponential – and now you couldn't imagine your life without apps," Cook told The Independent. "Your health is on one app, your financials, your shopping, your news, your entertainment – it's everything. AR is like that. It will be that dramatic."
Cook has spoken before about the awe-inspiring power of augmented reality. The technology overlaps virtual objects onto a camera feed of the real world, enabling apps like furniture catalogues that let customers preview products in their home before buying. iOS 11, a free software update for iPhones that launched last month, lets developers easily create apps with the ARKit framework that takes care of the complicated aspects of augmented reality.
"People initially didn't think multi-touch was very profound," Cook said. "But you think about how we all interface with software today, and we do it by touch. The point-and-click and buttons that we all used for so long are fading. And you couldn't imagine now interfacing in that kind of way. So I think it's like that – it's that big."
On the hardware side, Apple's new smartphone lineup has been designed with augmented reality in mind. The iPhone 8, 8 Plus and X all use the A11 Bionic chip, a processor that helps enable better AR apps by offering advanced machine learning capabilities. The iPhone X in particular offers smoother object tracking with the front-facing camera thanks to its face scanning system, meaning apps like Snapchat can offer better filters.
Beyond the iPhone, Apple has patented a pair of augmented reality smart glasses, suggesting the company may try to ditch the phone altogether. However, Apple could face a big technological challenge getting the headsets to market — Facebook CEO Mark Zuckerberg dismissed the idea this summer, stating that the science to build a headset that people will wear in public "doesn't exist yet."