Augmented Reality Glasses Aren't Cool Yet, Says Mark Zuckerberg
The Facebook CEO is more focused on virtual reality for now.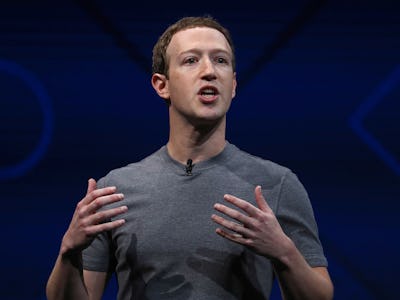 Getty Images / Justin Sullivan
Sorry, Google Glass fans: Mark Zuckerberg doesn't think your augmented reality headsets are the sort of thing people want to wear out in public. Speaking to investors about the company's second quarter 2017 financial results, the Facebook CEO said that the technology, which overlays graphical images onto a view of the real world, isn't quite advanced enough. The problem is, companies have not yet made a headset that people are likely to wear for extended periods of time.
"When you think about AR glasses, the technology and science to build an experience that would be both comfortable to wear, and something that people would want to wear out in public, that doesn't exist yet," Zuckerberg told investors on Wednesday. "So, there's a lot of foundational work that needs to get done there. That's partially why I'm excited about doing the VR work. You're not wearing VR out in public."
Facebook is going all-in with virtual reality, after buying headset developer Oculus VR in 2014 for $2.3 billion. The company has demonstrated a number of virtual reality apps that could allow people to interact and socialize across the world. After the acquisition, Oculus VR launched the Rift virtual reality kit in March 2016 for $599, a headset that encloses the wearer's field of vision. Unlike augmented reality, the Rift is designed to immerse the wearer in a new world.
"The work we started talking about at F8, releasing slowly over the course of the year, is certainly one of the precursors to building up that ecosystem that I am excited about," Zuckerberg said on Wednesday.
In April 2016, at the F8 conference in San Francisco, Facebook demonstrated a virtual visit to London with CTO Mike Schroepfer and Social VR team leader Michael Booth. The demo showed how the company thinks these new technologies could prove crucial to the company's future.
"Not only does it have the possibility to be the next major computing platform, AR and VR together, but I think it has the possibility of being much more social and intuitive and natural than some of the devices we have today, whether they're computers or phones, and that's why I'm really excited about that," Zuckerberg said on Wednesday.
Although current augmented reality headsets like the Microsoft HoloLens and Google Glass offer a glimpse at what the future holds, they're currently rather bulky and obtrusive. Until technologies improve, another approach that some companies are taking is to develop augmented reality experiences for mobile. Apple is offering a kit in the upcoming iOS 11 that will make it easy to build AR apps, while Facebook has launched the AR Studio platform to allow developers to add fun camera effects to their apps.
"I think AR is quite far down the road, but when you're running a operation and serving people of the scale, you have a responsibility to invest in all these things that are downstream that can help shape and improve people's lives because I don't think that there are that many other folks in the world who will," Zuckerberg said. "That's a thing that we take seriously."