SpaceX Just Landed a Falcon 9 Rocket on a Drone Ship in the Dark
The company landed the rocket on 'Just Read the Instructions'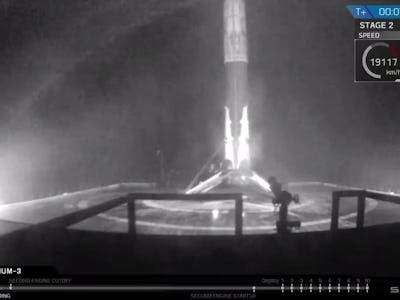 SpaceX/Twitter
SpaceX successfully landed a Falcon 9 rocket on a drone ship on Monday, the 17th in a row. After sending a series of satellites into orbit, the rocket landed on the Just Read the Instructions ship in the Pacific ocean about an hour before the sun rose over Los Angeles.
The landing is an important part of the company's mission to ultimately complete a manned trip to Mars in 2024, a project that will depend on precise rocket landing technology.
The company launched Iridium-3 from space launch complex 4E at Vandenberg Air Force Base in California. The mission, which lifted off in the 5:37 a.m. Pacific time launch window, is aimed at sending a constellation of 10 Iridium NEXT satellites into orbit.
It's is the third of four scheduled launches for the wider satellite constellation, and it's part of Iridium's goal to offer mobile voice and data coverage anywhere in the world. The project, set to replace the world's largest commercial satellite network of low-Earth orbit satellites, has been described by the company as one of the largest tech upgrades in history.
SpaceX confirmed the rocket's landing at 5:45 a.m. Pacific on the company Twitter page:
The landing is good news for the planned interplanetary transport system that could take humans to Mars, the latest version of which Musk unveiled on September 29 at the International Astronautical Congress in Adelaide, Australia. Landing rockets instead of crashing them means the company can use them again, which means humans can move further distances by setting up refueling stations on distant planets. SpaceX could send a rocket to Mars, land it, refuel it and send it back to Earth. The key is perfecting that quick-turnaround reusability at this early stage with Falcon 9 missions.
SpaceX's next mission, scheduled for October 11, will take a 11,500-pound SES-11/EchoStar 105 single communications satellite into a geostationary transfer orbit. The launch was previously scheduled for October 7, but SpaceX announced a delay two days prior.
If you liked this article, check out this video on the nerdy way Elon Musk comes up with the names for his inventions.