Musk: SpaceX 'Aiming' to Break Rocket Landing Record This Weekend
Elon Musk has an ambitious goal in mind.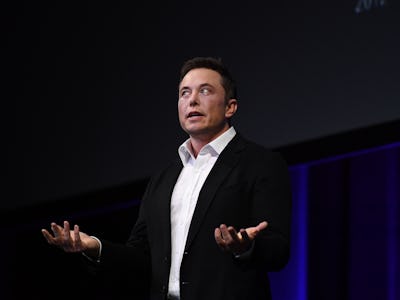 Getty Images / Mark Brake
Elon Musk is planning something incredible. On Wednesday, the SpaceX CEO set his company a new big challenge: two rocket landings in the space of just 48 hours, over the coming weekend. If the team can do it, it's good news for the company's long-term goal of sending humans on a manned mission to Mars in 2024.
The pressure is on to successfully land two Falcon 9 rockets in short succession after their payload has been delivered into orbit. The first launch, scheduled for 6:53 p.m. Eastern time on October 7 from Florida's Cape Canaveral Air Force Station, will take a SES-11/EchoStar 105 single communications satellite into a geostationary transfer orbit. The satellite will provide TV broadcasts for North America.
The second, set for 5:37 a.m. Pacific time on October 9 from California's Vandenberg Air Force Base, will send a constellation of 10 Iridium NEXT satellites into orbit. This is the third of four scheduled launches for the wider satellite constellation, and it's part of Iridium's goal to offer mobile voice and data coverage anywhere in the world.
If SpaceX can pull it off, it's good news for the planned interplanetary transport system that could take humans to Mars, the latest version of which Musk unveiled at the International Astronautical Congress in Adelaide, Australia last week. Landing rockets instead of crashing them means the company can use them again, which means humans can move further distances by setting up refuelling stations on distant planets. SpaceX could send a rocket to Mars, land it, refuel it and send it back to Earth. The key is perfecting that quick-turnaround reusability at this early stage with Falcon 9 missions.
The last time SpaceX came close to two launches within 48 hours was in June, when it achieved two drone ship landings in the space of two days, one hour and 15 minutes.
This weekend's two missions won't be landing on the same launch pad, though. While the SES-11 mission will land on the Atlantic Ocean-based droneship Of Course I Still Love You, which has played host to six out of eight successful landings, the Iridium NEXT mission will land on the Pacific-based Just Read the Instructions, the latest iteration of which has achieved two successful landings out of three.
Elon Musk's inventions are full of sci-fi Easter eggs. Check out this video to find out what they are.