Dramatic Satellite Maps Reveal Power Outage in Puerto Rico
Only five percent of the island has power.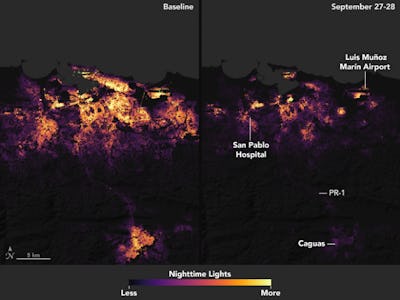 Puerto Rico is still reeling from the devastation of Hurricane Maria, the catastrophic Category 4 storm that left 34 people dead and much of the territory's infrastructure in ruins. While FEMA says that Puerto Rico recovery is making progress, as of Saturday only five percent of the island had electricity, leaving about 3.4 million residents without power.
Because a loss of electricity is a threat to public health and can hinder relief efforts, NASA has released high-quality satellite maps to guide members of the National Guard and FEMA in focusing their efforts — and reveal the extraordinary extent of the storm's destruction.
NASA's before-and-after images are based on data collected from the Suomi NPP satellite. It's equipped with a scanning radiometer that collects visible and infrared imagery and radiometric measurements, which means that as it passed over Puerto Rico, it was able to measure the emissions from cities and other human activity. Light from any non-electrical sources is filtered out in the creation of these maps, as well as atmospheric elements like dust, haze, and thin clouds.
Below is an image of Puerto Rico before the storm, and then a composite image of the island on the nights of September 27 and 28. It reveals widespread outages around the capital of San Juan, including important hospital and transportation sites.
Zooming in on San Juan reveals just how devastating the darkness is for the city's 389,714 residents. While the Luis Muñoz Marín International Airport is now operating on a limited schedule, much of the region surrounding it is still without power.
In a 2014 paper published in PLOS Currents, public health scientists explained that power outages impact health on many levels — some of which we do not see. Electricity is needed to power hospitals and water pumps, which are obvious necessities in the wake of a crisis like Hurricane Maria. But losing light is also correlated with an increase in diarrheal disease because food consumed in the dark can't be properly refrigerated and inspected. In addition, it's associated with a sense of increased social isolation, which affects the mental health of those in the dark and can make recovery efforts all the more difficult.
For now, most Puerto Ricans are relying on generator power, which means long lines to necessary items like gas and clean water. With a power infrastructure that the Puerto Rico Electricity Power Authority described as "destroyed", it's estimated that it will take a few months before the entire island has electricity again.