Elon Musk Aims to Win Twitter Bet and Build Biggest Battery Ever
Tesla looks to meet Musk's 100-day goal.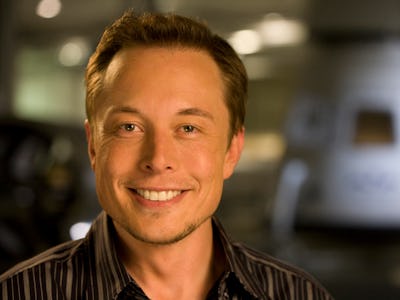 Flickr / OnInnovation
Tesla is well on its way to meeting Elon Musk's deadline and finishing the world's biggest battery in just 100 days. The project, which will bring 129 megawatt-hours of power storage to some of Australia's most arid regions, will store enough renewable energy for later use to power 30,000 homes.
The goal stems from a bet Musk made with Australian software-billionaire Mike Cannon-Brookes over Twitter. In March, Cannon-Brookes asked Musk if comments made by Lyndon Rive, Tesla's vice-president for energy products, were accurate. Rive had claimed that the company could install between 100 to 300 megawatt-hours of battery storage within 100 days.
"Lyndon & [Elon Musk] - how serious are you about this bet?" Cannon-Brookes asked. "If I can make the $ happen (& politics), can you guarantee the 100MW in 100 days?"
"Tesla will get the system installed and working 100 days from contract signature or it is free," Musk responded. "That serious enough for you?"
The beneficiary of the project is the state of South Australia, which Musk visited last week when he presented his latest SpaceX plans at the International Astronautical Congress in Adelaide. The region already gets about a third of its energy from renewables, but a statewide blackout in September 2016 pushed legislators to come up with a solution that could hold backup energy when it's needed most.
Musk has until January 8, 2018, to finish the project. If he fails, the BBC reports that he stands to lose around $50 million, as the South Australia government will only pay for it if it's delivered on time.
The Tesla CEO has been slightly cheeky with the deadline, though. The 100-day countdown started on September 30, when the company received clearance from Australia's energy regulator for the project. Tesla has been working on the battery for a long time prior to this, so while the company company could meet the goal, it didn't exactly build a battery in 100 days.
Just days after Musk's Twitter exchange, the government of South Australia announced a bidding process where it would spend $113.3 million on a chosen project, part of a $385 million plan to turn the energy crisis around.
Tesla faced competition from 90 other applicants, including Zen Energy, Carnegie Clean Energy and Lyon Group. When Musk's plan was successful, it paired up with French solar energy provider Neoen to join up the battery to the Hornsdale Wind Farm near Jamestown in South Australia.
It's not the only project Tesla is working on around the area. Last month, it announced plans to extend its supercharger network of electric chargers to the state, enabling Tesla drivers to visit the project without fear of a flat battery.
If you liked this article, check out this video on how Elon Musk became so popular.