How Tesla Will Lure Australians to the "World's Biggest Battery"
Car-charging stations will lead drivers right to it.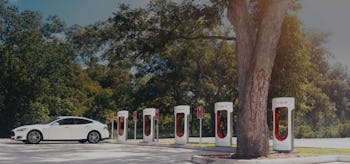 Flickr / Au Kirk
Tesla's building the "world's largest battery site" in South Australia to help the power-starved region store solar energy and move beyond traditional electricity, and naturally, it would like owners of Tesla cars to pay a visit to this coming wonder of the modern world.
"Our new Supercharger route in South Australia will soon allow Tesla owners to visit the world's largest battery site," the company revealed on Twitter Thursday.
The Supercharger route is is defined by so-called Superchargers, which look a lot like futuristic gas stations but electricity comes out of the pumps instead of unleaded.
In July, Tesla revealed plans to build the largest lithium-ion battery storage system in the world, enabling South Australia to store renewable energy generated from its wind and solar farms. The 100-megawatt (or 129-megawatt-hour) Powerpack system — Tesla's brand name for utility-scale solar energy storage — is enough to provide energy to 30,000 homes. The battery project is set for completion this December.
"You can essentially charge up the battery packs when you have excess power when the cost of production is very low … and then discharge it when the cost of power production is high, and this effectively lowers the average cost to the end customer," Tesla CEO Elon Musk said during a press conference at the time.
Tesla's network has 945 stations globally with 6,502 chargers in total. New Tesla buyers get 400 kWh of free credit per year, roughly the equivalent of 1,000 miles. After that, there's a payment that the company claims is "a fraction of the cost of gas," although how much cheaper it is depends on a wide range of factors.
The South Australia project is the culmination of months of preparations, after a statewide blackout in September 2016 pushed legislators and entrepreneurs into action. In March, Musk told Australian software-billionaire Mike Cannon-Brookes over Twitter that he could solve the state's energy woes in just 100 days "or it is free."
The government then held a bidding process where 91 applicants put forward their proposals for the state's project, with the total budget for the project amounting to around $113.3 million. Tesla was ultimately successful in its bid, opting to work with Paris-based solar energy provider Neoen to pair up the battery pack to the Hornsdale Wind Farm near Jamestown in South Australia. At least now, when the project is complete, fans paying a visit to the project won't be caught short by a flat battery.
Back story: Elon Musk Plays Solar Salesman: "Check Out the Sweet Roof"