SNES Classic Controversy: Fake SNES 'Skyrim' Version Teased
No, 'Skyrim' isn't really coming to the SNES Classic.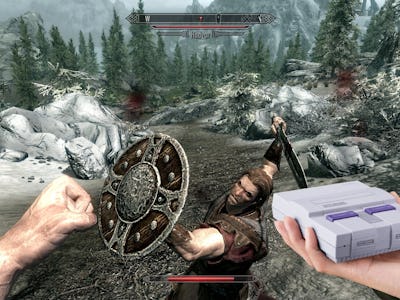 Bethesda / Nintendo
Bethesda, perhaps best known for its Elder Scrolls franchise, teased cover art for a Skyrim SNES Classic version that would appear, but fans shouldn't hold their breath — or in this case, their Dragon Shouts.
Bethesda shared the awesome 2D cover art Friday, complete with the iconic Super Nintendo Entertainment System borders. The image itself shows a burly Nord, the Dragonborn, wearing the same horned helmet used in most of Skyrim's promotional materials. In the background looms what looks like Alduin, the sentient black dragon that serves as the primary antagonist for the game.
The tweet itself reads, "Congrats to Nintendo on the launch of the #SNESClassic. The Elder Scrolls finally comes to a Nintendo console on Nov. 17th!" This phrasing alongside the totally rad art might initially make you do a double take: Is Bethesda somehow releasing a 16-bit version of Skyrim for the SNES Classic to join the 21 other games on the console?
The unfortunate and very short answer is no.
Still, check out the tweet here:
Bethesda released the mock-up on its official Elder Scrolls Twitter account more to celebrate the SNES Classic's release and the impending release of Skyrim for the Nintendo Switch, Nintendo's newest, more advanced system. (The easily missed #SkyrimSwitch at the end of the Tweet sort of gives it away.)
Tons of confused fans quickly grew excited that this was legitimately happening, and Bethesda was smart to quickly clarify:
Skyrim is indeed coming to Nintendo for the first time, just not to the SNES Classic. The version coming to the Switch will be an expanded version of the original game with Zelda-themed gear and compatibility with motion controls.
So it's almost as cool as getting an entire 16-bit version.
The SNES Classic is out now but difficult to find if you didn't pre-order, and Skyrim hits the Nintendo Switch November 17, 2017.