Super NES Classic Edition Games List: What's on Nintendo's Latest Console
Mario Kart, Contra III, Zelda -- they're all there!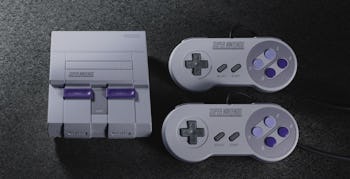 Nintendo
On Friday, Nintendo is going to take video game fans back to the '90s with the release of the Super NES Classic edition. The miniature version of the old-school console, which boasted iconic titles like Super Mario World and Donkey Kong Country, is a follow-up to the earlier re-release of Nintendo's first system, the NES. If the wild demand for the NES Classic edition is anything to go by, snagging a Super NES Classic might be hard. But, if you are lucky enough to get one, here's what you can look forward to.
The Super NES Classic, which runs for $79.99, comes pre-loaded with 20 of the best-known games from the SNES era. Included in the mix are several Mario titles, like Super Mario Kart and Yoshi's Island, hectic shooter Contra III, and The Legend of Zelda: A Link to the Past. All of these games look and play the same as they did back in the '90s, but Nintendo has added a feature that allows for multiple save spots and the ability to rewind up to a minute of gameplay — helpful if you're stuck on that one part of that one level.
Getting to play the original versions with added features like will sound like a dream come true for those excited to play the following games on the SNES Classic:
Contra III: The Alien Wars
Donkey Kong Country
EarthBound
Final Fantasy III
F-ZERO
Kirby Super Star
Kirby's Dream Course
The Legend of Zelda: A Link to the Past
Mega Man X
Secret of Mana
Star Fox
Star Fox 2
Street Fighter II Turbo: Hyper Fighting
Super Castlevania IV
Super Ghouls 'n Ghosts
Super Mario Kart
Super Mario RPG: Legend of the Seven Stars
Super Mario World
Super Metroid
Super Punch-Out!!
Yoshi's Island