Hugh Hefner's Little-Known Side Gigs Were Unexpectedly Scientific
He avidly supported research of the "perverse, improper, or peculiar."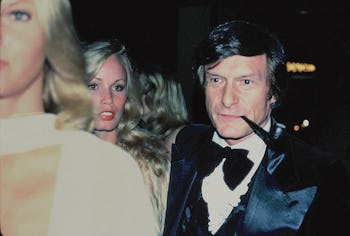 Flickr / Alan Light
Playboy magnate Hugh Hefner, who died Wednesday of natural causes, will be remembered for his unabashed glorification of sex, hedonism, and the female form. He celebrated these in more ways than one: In the flesh-licked pages of his pioneering softcore pornography magazine, sure, but also through a surprising amount of support for scientific research in sex and drugs.
"People don't realize Mr. Hefner's philanthropic interests," said Matthew Pakula, spokesperson for the Hugh M. Hefner Foundation, in an interview with Scientific American in 2009. "It's not a side of him that often gets covered in the press."
The stated goal of the foundation, established in 1964, is to "facilitate individual rights in a democratic society." Over the years, it's done so largely by supporting well-known institutions that conduct research into taboo areas like sex, reproductive health, and drugs, which have traditionally been brushed aside by America's conservatism.
Every new idea, Hefner said in a statement about the foundation's goals, "no matter how seemingly perverse, improper, or peculiar, has its opportunity to be considered, to be challenged, and ultimately to be accepted or rejected by society as a whole or by some small part of it."
Many of the organizations and institutions supported by the foundation's Rational Sex and Drug Policy Program are certainly considered perverse, improper, or peculiar by some fraction of the American population. In recent years, this program has awarded grants to reproductive health champions Planned Parenthood and the Drug Policy Alliance, an advocacy group aiming to end the war on drugs.
Among the other research groups that have received money from the Foundation are the Guttmacher Institute, whose mission is to conduct sexual health research in order to create better reproductive health policies, especially regarding contraception and abortion, together with the NARAL Pro-Choice Foundation and the Kinsey Institute for Research in Sex, Gender, and Reproduction.
Hefner's support of institutions that investigate controversial topics in science is not often talked about, but it shouldn't be that surprising, either. Cynics may point out that supporting women's access to contraceptives and increasing access to drugs are in the best interest of the Playboy man — and by no means were Hefner's methods for celebrating individual freedoms particularly "woke" — but his research and policy goals are very much in line with his greater philosophical scheme: to let people do what makes them feel good by breaking down the societal barriers that prevent them from doing so.