Another Big DC Character Has Been Cut From 'Justice League'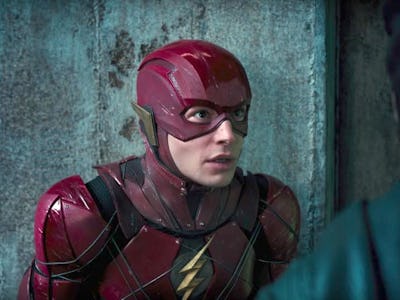 YouTube.com/Warner Bros. Pictures
DC's starting lineup of superheroes will take to the big screen in Justice League this November, but at least one major ally will not appear in the movie. Kiersey Clemons, who was slated to debut in the DC movie universe as Flash's love interest Iris West, has allegedly been removed from the final cut of Zack Snyder/Joss Whedon's Justice League.
Last Friday, September 22, scoop site Batman News reported that Clemons' scenes have been cut from Justice League, which is still in production with extensive reshoots. Back in June, Clemons told Modeliste that she has a cameo in the film. With her previous credits being the indie film Dope and the raunchy comedy Neighbors 2: Sorority Rising, Clemons said Justice League was her "first time doing something so extravagant."
Iris is now the second major supporting character edited out of Justice League. Just a few weeks ago, it was reported that Lex Luthor (Jesse Eisenberg, reprising his role from Batman v Superman) has also been removed from the film's theatrical version. Unlike Iris, Lex Luthor was expected to have a key role in Justice League given his knowledge of the alien threat Steppenwolf.
In the comics, Iris West is a journalist and the true love of Barry Allen, aka the Flash. Much like Lois Lane is to Superman, Iris has been very important to the Flash's history, at times knowing her husband is a superhero and other times completely unaware of Barry's alter ego. On television, the character had a pretty minor role in the 1990 CBS series, but in the 2014 reboot on The CW, Iris — played by Candice Patton — is a major supporting character. Patton is set to return to The Flash for the show's fourth season this fall.
Justice League will be released on November 17.
If you liked this article, check out this video that reveals another reason for Bruce Wayne becoming Batman.