Iris West Will Make a Cameo in 'Justice League'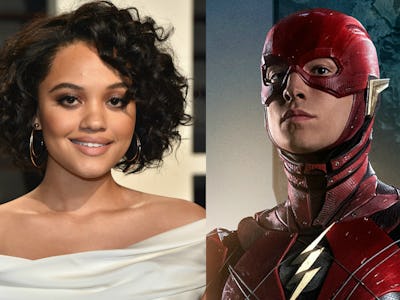 Pascal Le Segretain / Getty Images, Warner Bros. 
Justice League may have the unenviable task of introducing Aquaman, Cyborg, and The Flash to the DC Extended Universe, but the film is going all-in introducing their supporting characters too. In a recent interview, actress Kiersey Clemons (Dope, Neighbors 2: Sorority Rising) confirms she will appear as Iris West, Central City reporter and longtime love interest of The Flash, in Justice League coming this November.
In an interview with Modeliste, Clemons said she filmed a cameo in London for Justice League, playing Iris West. There was no coy or evasive wordplay either, she just says I'm in that big superhero movie as plain as day.
"This November, I'm making a cameo in Justice League as Iris West and it's the first time that you meet her before we get to see her in The Flash with Ezra Miller," she said in the interview. "It was my first time doing something so extravagant like that. We filmed in London and that's one of my favorite places."
Created by Carmine Infantino and Joe Kubert for Showcase #4 in 1956, Iris West is a reporter for Central City's Picture News and is engaged to Barry Allen, who is secretly The Flash. Actress Paula Marshall portrayed the character for one episode in the 1990 TV series The Flash on CBS, but Candice Patton famously plays Iris in the CW reboot/Arrow spin-off The Flash since the beginning. Due to the popularity of The Flash, there were petitions urging studios to "Keep Iris Black," driven by Patton's performance in the series.
Justice League will hit theaters on November 17.