Why Facebook's Rosh Hashanah Message Was So Creepy
This holiday well-wishing has much deeper implications.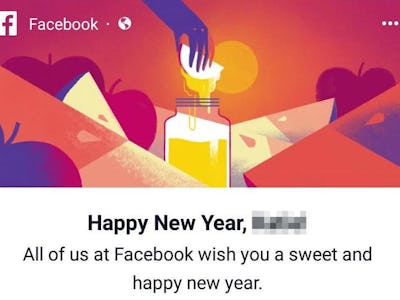 Getty Images / Dan Kitwood
When it comes to creepers on Facebook, it's often not your ex or a mysterious coworker, it's actually Facebook's algorithm, which last week gave the latest example of how the social media giant will scrape your profile and activity and come to scarily accurate conclusions about private matters, like your religion.
Last week, Facebook site displayed a personalized message appearing at the top of designated users' News Feed wishing them a happy Rosh Hashanah. "Happy New Year! All of us at Facebook wish you a sweet and happy new year," the message — which is only visible to the individual user — read.
The personalized message Facebook put at the top of certain users' News Feeds shows the company believes it knows which of its users are Jewish, even those who don't list their religious affiliation on the site. While the social media site wasn't able to guess its Jewish users with perfect accuracy, this is the latest instance in which Facebook has revealed just how much data it gathers on its users, with or without their knowledge.
The way that Facebook manages to creep people out with these messages is by pulling data from one's past actions on Facebook, such as "liking" a post, clicking on an ad, RSVP-ing to an event, or sharing a link. Two years ago, the site was capable of using 100,000 factors to personalize one's user experience on the site.
"We send messages about religious moments to people in countries where a large proportion of the population observes the religion, or where the religious date is a public holiday," a Facebook spokesperson told CNN. "We may also show the message to people who've expressed interest in the holiday."
It's this same kind of data collection that helped Facebook selectively determine which users would be able to use the limited-time "Pride reaction" emoji during the month of June. The Atlantic reported that "the platform has avoided offering city-wide pride reactions in large metropolitan areas that supported Trump in the last election, but LGBTQ-interested people are still able to access the feature on average." Some experts questioned the ethics of this case, considering it a "digital gerrymandering" strategy.
To say this new Rosh Hashanah stunt comes at a bad time would be an understatement. Just a little over a week ago, it became public that a Facebook algorithm allowed advertisers to specifically target "Jew haters" when purchasing ads through its automated service:
Facebook users can view some of topics that advertisers are able to target them regarding and make changes to their algorithmically-determined interests through Ad Preferences.
Because of this controversy, it seems hard to imagine why Facebook would demonstrate its perceived ability to identify which users are Jewish at this time. Speaking with CNN, Columbia University professor and surveillance theorist Bernard E. Harcourt did wager one guess.
"I'm not saying it is, but it would be a kind of brilliant and perfect way to test your algorithms," he said, implying that it could well have been a means of field-testing its algorithms capabilities. "If you do want to target Jews for advertising, now you've got a much sharper and better algorithm as a result of the corrections that were made."
The more they know…