How to Get the Facebook Pride Reaction in 3 Steps
The rainbow reaction is only available if you like the right page.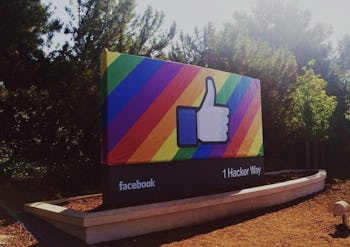 LGBTQ@Facebook
Besides the traditional "Like," there are five other reactions on Facebook: "Heart," "Haha," "Wow," "Sad," and "Angry." For June, though, the social media platform is rolling out a special rainbow flag reaction for Pride Month, which is celebrated in many countries around the world. Problem is, it's surprisingly hard to unlock the special rainbow reaction unless you follow a certain set of procedures and live in certain countries.
As a default, the rainbow reaction is only available to users located in "major markets with Pride celebrations," according to a public statement. Some users have noted that the countries where the Pride reaction isn't available seem to overlap with countries that are less gay-friendly or where homosexuality is illegal. This geoblocking has raised a few eyebrows, but even Facebook users in countries where the rainbow reaction is available have complained on the site's official LGBTQ page that they've had to jump through social media hoops in order to see the rainbow flag at all
Here are the three steps you need to take in order to get the rainbow reaction. Electing to make this an opt-in experience for users is, admittedly, awkward for Facebook, so note that these steps still may not work for some.
1. Log into Facebook
3. Boom. The rainbow flag reaction is yours
Facebook has also released Pride-themed profile picture frames and camera filters, which should likewise be available to users who like the LGBTQ@Facebook page.