Photos from Juggalo March Show Love for Everybody, Except the Feds
'A lot of people don't want discrimination in this country anymore.'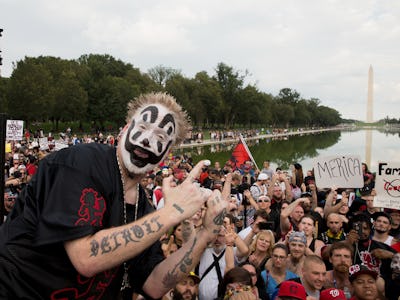 Getty Images / Tasos Katopodis
Although the Juggalos marching on the National Mall Saturday were there to protest discrimination against "the Family", they found themselves forming a rallying cry against discrimination as a whole.
"A lot of people don't want discrimination in this country anymore man," Violent J, one half of Insane Clown Posse, told a crowd of several hundred. "They don't want bullshit racism, they don't want hate, that shit's played out and ancient. … So we're standing for a lot more than our problem at hand, because like I said if get away with this, if they roll right over us, where exactly does it fuckin' stop?"
The Juggalo March was planned as a protest of the FBI's 2011 designation of Juggalos as a "loosely organized hybrid gang." Although the group wasn't listed on the FBI's National Gang Threat Assessment in subsequent years, Juggalos say the results from 2011 have been long lasting. Members of the subculture say they've been harassed by police, lost jobs, and — once having had their names thrown onto gang databases — have experienced higher sentences for minor crimes. Juggalos have been trying to get the F.B.I. to rescind the designation for years, bringing them all the way to D.C. Saturday for a moment of protest.
There was another rally also planned for the National Mall on Saturday. Audaciously titled the "Mother of All Rallies," a pro-Trump gathering shared the grounds with the Juggalos, but its turn out was unexpectedly low; reports said only around 150 to 200 people showed up.
Although there were no conflicts between the two rallies, the division was apparent as leftist groups like Antifa and Democratic Socialists of America showed solidarity and marched with Juggalos.
Given the pro-Trump presence and the political climate as a whole, participants in the Juggalo March seemed to know that it was about more than just fans of Insane Clown Posse who want to rep their face paint and not fear the consequences. It became about battling discrimination's many fronts. And judging by today's peaceful demonstration, maybe Juggalos are the future liberals want?
Faygo, not fascism.
One sign among a marching crowd read, "We're different, not dangerous."
Antifa came out in peaceful support.
And even Juggalo insults were kind of nice.
But they are definitely not friends to the F.B.I.
Ian MacKaye of Fugazi even came out on his bike.
And they had really great signs.