At Least One Ex- Avenger Will Join 'Guardians' in Marvel Comics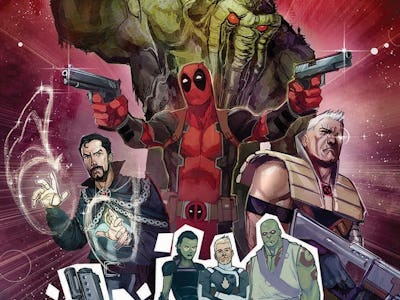 Marvel Entertainment
This October, a major Marvel superhero and former Avenger is joining the Guardians of the frickin' Galaxy. But it won't be in the big screen Marvel Cinematic Universe, at least not yet. It will all happen in the pages of Gerry Duggan's All New Guardians of the Galaxy #12, when an ex-Avenger steps up to help the galaxy's most notorious A-holes.
In a teaser for Guardians of the Galaxy #12 from Gerry Duggan, which will be released on October 18, Rob Reis's cover art teases three A-list Marvel heroes such as Doctor Strange, Deadpool, and Cable. A fourth prospect, the lesser known but still cool Man-Thing (Marvel's answer to DC's Swamp Thing) is also a possible candidate for the team, which is all part of the upcoming story arc, "The Infinity Quest."
Based on the synopsis for issue #12, the new member won't be a permanent addition. While the Guardians will chiefly be joined by the order of stiffs known as the Nova Corps, the "new" Guardian will be there to assist until the arc's end. At least, that's how it sounds.
The synopsis is below:
"The Guardians have been tasked with some wacky and big adventures while doing the Grandmaster's bidding, which includes stealing from The Collector – and Star-Lord even accidently destroyed one of his favorite mix-tapes. Now, as they prepare for their Legacy arc THE INFINITY QUEST, they'll have to team up with the group that has been on their tails – the Nova Corps – as well as one ex-Avenger if they want to keep the universe safe."
Also check out the cover art, which has the Merc with the Mouth front and center along with Cable, Doctor Strange, and Man-Thing towering behind.
Guardians of the Galaxy #12 will be released on October 18.