The Punisher Is Probably Gonna Kill These Guys in New Netflix Clip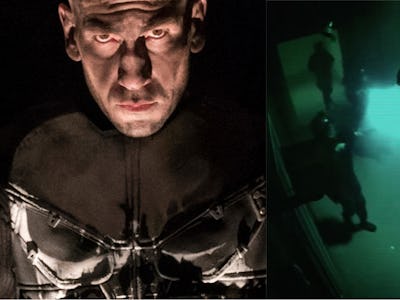 Netflix
Frank Castle is about to return to the Marvel Cinematic Universe, and if an ominous new Instagram video is anything to go by, it's not going to be pretty.
On Sunday, the Instagram page for The Punisher, which will premiere on Netflix later this year, uploaded a brief clip of night vision surveillance footage depicting an armed squad entering an abandoned building. Along with the video, the caption reads: "Everything will come to light eventually."
There's no context on the situation, but there are two main possibilities of what's going on. Either they're some sort of SWAT team after Frank Castle (Jon Bernthal) now that he's terrorizing criminals and corrupt law enforcement as the Punisher, in which case they're all going to die, or this is a clip from Frank's military past. The Instagram caption might be hinting at this, since there are a lot of skeleton's waiting to be let loose.
Since he made his head-turning debut on Season 2 of Daredevil in 2016, Bernthal's Punisher has been a very popular character in the MCU. Rumors of a spinoff series surfaced shortly after that premiere until Netflix officially confirmed it in April, hiring former Hannibal writer Steve Lightfoot as the showrunner. Bernthal will reprise his role along with fellow Daredevil star Deborah Ann Woll, who will once again playing Karen Page.
See the Instagram clip below.
There is still no release date for The Punisher on Netflix.