Elon Musk Shares Full-Body Shot of SpaceX's Sharp Spacesuits
It's a monochromatic look.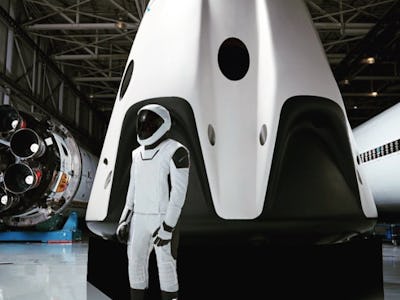 In August, SpaceX CEO Elon Musk gave the world a glimpse of what the company's upcoming astronaut spacesuits would look like. The monochromatic look didn't not disappoint from a fashion point-of-view. Musk just went a step further on Friday and shared the first full-body look of the spacesuit design on his Instagram account.
The new shot goes beyond the first picture and provides a look at the suit beyond just the upper body and torso — revealing the design of the gloves, pants, and boots, which look similar to Hunter rain boots, presumably with extra space features, though.
There's more going on in Musk's Instagram posts than just the suit. The shot seems to have been taken at the company's Hawthorne, California headquarters, in the same place where the Dragon 2 was first revealed by Musk in 2014. The capsule itself has undergone its own sleek redesign, getting a black-and-white makeover that matches the suit.
Flanking the spacesuit and capsule look to be some of the company's rocket boosters — probably Falcon 9 boosters, but they could very well be part of something else. The booster (if it's even a booster) on astronaut's left (the viewer's right) has a sharp pattern drawn on the casing.
The suits are designed for astronauts flying in the company's Dragon 2 (Crew Dragon) spacecraft — fully autonomous vehicles designed for orbital missions. Those spacecraft would be launched using the Falcon 9 reusable rocket. The new suits are basically an emergency precaution meant to keep astronauts safe in case the spacecraft depressurizes for any reason during flight.
The suit, apparently inspired by Halo and Mass Effect, will be used as part of SpaceX's contracts with NASA to send astronauts to the International Space Station, under the agency's Commercial Crew Program to use private American companies (SpaceX and Boeing, for now) to fly U.S. astronauts into orbit.
If all things go well — and given how many delays SpaceX and Boeing have experienced, that's a big "if" — SpaceX will finally be testing out these suits in a real crewed mission into space by June 2018.
Those astronauts would be flying up aboard Dragon 2.