Elon Musk Just Revealed the First SpaceX Astronaut Suit Photo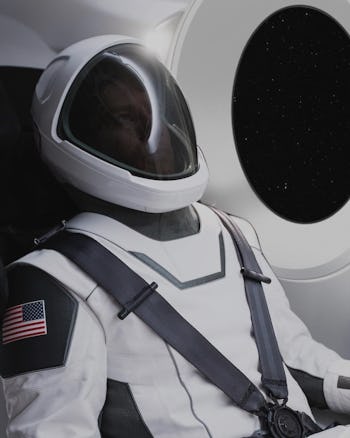 Getty Images / Brendan Smialowski
Elon Musk has revealed the SpaceX spacesuit to the world. The company's CEO shared the image on Wednesday, which will serve as the official outfit for future missions. The company has big plans to start its first manned missions in collaboration with NASA as soon as 2018, with a human mission to Mars at some point in the mid-2020s.
"First picture of SpaceX spacesuit," Musk said in an Instagram post. "More in days to follow. Worth noting that this actually works (not a mockup). Already tested to double vacuum pressure. Was incredibly hard to balance esthetics and function. Easy to do either separately."
If everything goes to plan, SpaceX will test an uncrewed mission in February 2018, followed by a manned mission in June 2018 as part of NASA's Commercial Crew Program. This would make it the world's first private company to send humans into space. It faces stiff competition from Boeing, though, which is planning an August 2018 date for its first manned mission.
View the spacesuit below.
The suits have undergone rigorous testing, as Musk revealed on Sunday.
Designing a spacesuit is no easy task. Earlier this year, a damning report revealed that despite spending $200 million in developing a spacesuit, NASA is years away from having one ready for deep space travel. The agency's original pile of 18 suits has run down to 11, and there's a chance it could run out by 2024. There's a tricky balance between designing a suit for protection and comfort, which is made all the more harder when designing for the "Extravehicular Mobility Units" that allow astronauts to leave the space station to carry out repairs. While NASA's Z-2 suit concept designs look fantastic, they remain out of action.
SpaceX's suits are designed for use within the Dragon 2 capsules that will start transporting astronauts in 2018. These fully autonomous spacecraft are designed to carry seven astronauts to the International Space Station and back. Much like the Falcon 9 rockets, the Dragon 2 is capable of landing on Earth for refueling and reuse, a feature that should help reduce flight costs. The astronaut in the spacesuit above will sit in a cabin that looks like this:
A future Red Dragon capsule may transport humans to Mars at a later date. An uncrewed version is expected to visit the red planet in 2020 to around 2023, using a new technology called supersonic retropropulsion. A manned mission is expected to land on Mars around 2026.
Competitor Boeing already took the wraps off its spacesuit back in January. The "Boeing Blue" spacesuit was designed by the David Clark Company for riding to and from the ISS. The suit is light, flexible, and designed with vents to ensure astronauts don't get too hot inside.
With Musk expected to release more details in the coming days, hopefully, more of the technical aspects of the new suit will become clear.