NASA's Next Generation of Spacesuits Look Fly as Hell
Fashionably exploring the final frontier.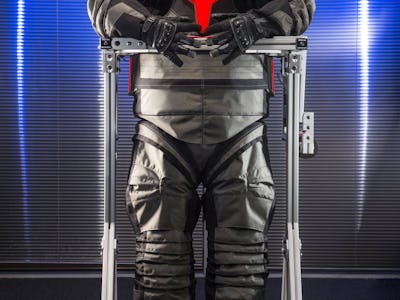 NASA
We expect spacesuits to be built for function over style, so the biggest surprise on this newly released NASA video on the evolution of its spacesuits might be that they employee in-house fashion designers. Those geniuses think of everything. And one more reason for you to put your application in to join the next astronaut team.
Posted this morning to NASA's YouTube channel, the video explains how the suits have been an essential element of the hundreds of extravehicular activity (or EVA) missions astronauts have undertaken since America started a space program. The old designs will always have an iconic, retro cool, but new ones like the Z-2 suit look like a bit of Stanley Kubrick art direction come to life.
David Graziosi, chief engineer of NASA's space systems, explains that the designs are the results of a huge committee's worth of input including not just engineers but designers at Philadelphia University, the aforementioned fashion designers, and public suggestions.
Besides being just plain fly, the Z-2 suits are fantastic examples of practical design, with boots specifically tailored for walking in zero gravity and a focus on lower torso mobility so astronauts can accomplish something as simple as picking up a rock. That mobility will come in handy as NASA tackles projects like clean energy and climate change.
Here's how NASA describes the lunar outerwear:
"The Z-2 suit is a technology demonstrator for a planetary surface suit; the suit is designed for maximum astronaut productivity on a planetary surface — exploring, collecting samples, and maneuvering in and out of habitats and rovers. The Z-2 uses advanced composites to achieve a light-weight, high-durability suit that can withstand long-duration missions in the harsh environments found on Mars. Adjustable shoulder and waist sizing features maximize the range of crew-member sizes who can fit into any single suit."
But you can never have everything. A 2014 Reddit AMA with NASA's engineers got right to the important points, asking if it was easier for astronauts to go to the bathroom in the new designs. Richard Rhodes, Z-2 Suit Design Lead, responded that while it was fine to go number 1, going number 2 "is not recommended." We'll keep reaching for that horizon.