NASA Resets Dates for SpaceX's and Boeing's First Crewed Missions
Which one is going to get to space first?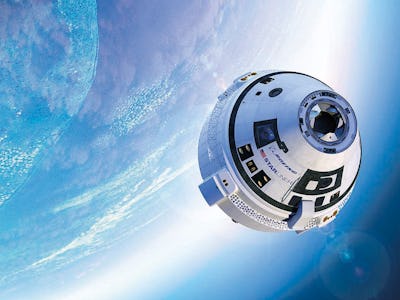 Boeing
If everything goes according to schedule, SpaceX and Boeing are on track for a head-to-head race to be the first private company to send humans into space, according to a new NASA report released last week. The problem, of course, is that when it comes to those two companies' plans to actually achieve such a milestone, things have rarely gone according to schedule.
NASA tasked SpaceX and Boeing in September 2014 with developing a spaceflight vehicle capable of shuttling U.S. astronauts to and from space, primarily as transport to the International Space Station. Those contracts, awarded under the agency's Commercial Crew Program, have faced numerous delays. SpaceX and Boeing — which are building the crewed Dragon and CST-100 Starliner vehicles, respectively — have repeatedly had to push back the deadlines for getting the ships built, tested, and certified as safe for human space travel.
In the meantime, NASA has extended its agreement with Russia's space program in using the Soyuz launches to get U.S. astronauts to the space station. Though cooperation between space agencies has long been one of the more positive aspects of relations between the United States and Russia, the countries' fraught diplomatic relationship makes that partnership more fragile.
The July 20 report basically affirms that SpaceX is targeting to pull off an un-crewed test flight in February 2018, followed by a crewed flight in June 2018. For Boeing, those dates are June 2018 and August 2018.
What this means is that both SpaceX and Boeing are targeting summer 2018 to finally send human astronauts into space aboard a commercial vehicle. Although SpaceX is trying to accomplish such a launch before Boeing, the close time frames and the frequency of deadline slips means it's certainly conceivable Boeing might beat SpaceX.
Will either company make a summer 2018 deadline? It's unclear. A recent SpaceNews report details both companies' extensive efforts to make that target date. Boeing's Starliner program director, Chris Ferguson, called the deadlines "a very aggressive test program."
If the two companies are successful, we'll finally see U.S. astronauts flying back into space from U.S. soil once more.