Elon Musk Hints SpaceX Spacesuit Was Inspired by Halo and Mass Effect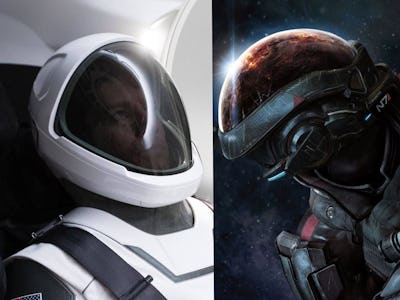 SpaceX and BioWare Montreal/Electronic Arts
There may be a simple reason why the SpaceX spacesuit that CEO Elon Musk revealed on Wednesday looks so slick. Musk hinted later that day that it's inspired by the gear in the ultra-popular sci-fi shooter video games Halo and Mass Effect.
When Musk released an initial image of the suit — which has already undergone double vacuum pressure, ocean landing mobility, and safety tests — one Twitter user couldn't help but notice that it looked rather familiar.
"First picture of SpaceX spacesuit. More in days to follow. Worth noting that this actually works…" Musk tweeted on Wednesday.
"Looks a bit like #halo or #massefect," a user replied.
"I played those games :)," Musk wrote back, in seeming confirmation.
Here's the first picture of the suit. It was developed for SpaceX's first crewed mission, which will use Dragon 2 capsules to transport astronauts to and from the International Space Station (ISS) in June 2018 as part of a NASA commercial crew program.
The helmet really does look like it was taken from Mass Effect: Andromeda:
The suit itself is reminiscent of those from Mass Effect 2:
Which we know Musk played:
The Spartan super-soldiers in Halo aren't far off, either:
If SpaceX achieves its June 2018 goals, it will be the first private company to bring humans to space. However, if it gets delayed — as often happens to Musk's projects — a competitor could easily grab that title. Boeing plans for its first crewed mission to launch in August 2018.
Boeing's spacesuits are also dope, though they don't share the same futuristic vibe:
The group that's really lagging behind is NASA. A May report indicated that the agency isn't at all close to finishing its next-generation spacesuit technologies, even though it's invested nearly $200 on their development. NASA only has 11 suits for the ISS; it used to have 18, and could run out by 2024.
Maybe the agency just needs some fresh ideas. NASA, if you're lacking inspiration, why not go play Mass Effect for a few hours and see where that gets you?