Can SpaceX Pull Off a Falcon Heavy Launch Date in Late Summer?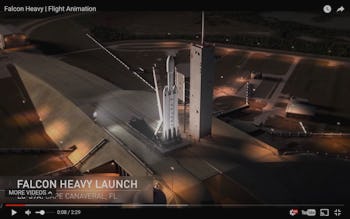 YouTube account SpaceX
On Tuesday, SpaceX completed a successful static fire test of the Falcon Heavy, which will become the most powerful working rocket in the world upon launch. That's a huge step, but what does it mean for the timeline of the vehicle's highly anticipated test launch?
A static fire test involves running the engines at full thrust without actually launching the vehicle. It allows testers to spot problems, like the helium tank issues that caused an enormous explosion during a SpaceX Falcon 9 static fire test in September. Tuesday's test seems to have gone smoothly, which means that there are no serious problems with the hardware that SpaceX has already installed.
The rocket cores aren't complete yet, though; in March, CEO Elon Musk estimated that they'd take another two or three months to finish.
Then there's the major issue of SpaceX not yet having a place to launch Falcon Heavy. The aforementioned explosion damaged the company's SLC-40 launch pad; in February, President Gwynne Shotwell said that repairs would be finished in June.
So things aren't quite ready to go yet. When will the launch occur? The last we heard from Elon was late summer:
But is that really realistic? SpaceX, like certain other Elon Musk projects, often experiences delays in its plans. The Falcon Heavy was first supposed to undergo this test in 2013; that became spring 2016, then late 2016, then early 2017, and now here we are.
Furthermore, SpaceX's subreddit actually lists the launch as planned for Q4 of this year, which would put the date in October, November, or December. This latest delay may be true, but it's hard to know, since it hasn't been officially announced.
Whether or not the upcoming season includes a Falcon Heavy launch, SpaceX will have quite a summer. Keep track of the updated dates for all of the company's launches here.