Marvel's Nazi Captain America Comic Did Shockingly Well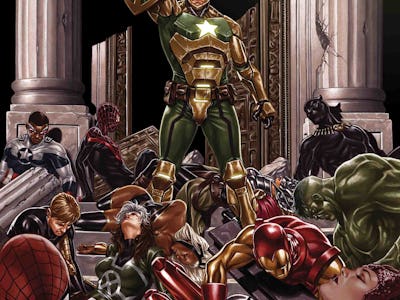 Marvel Entertainment
In a time when American fascism looks less like a dystopian trope and more like a plausible reality, comic book fans were mighty uncomfortable when Captain America became a puppet for the evil Nazi-esque occultists known as Hydra. Still, something about Marvel's Secret Empire, written by Nick Spencer, clearly worked, because Secret Empire issues eight, nine, and ten landed in the Top 10 selling comics of August this year, based on new reports from Diamond Comic Distributors.
Last month, the final three issues of Marvel's controversial series landed in the Top 10 selling issues of the month. Other Marvel comics — Generations: All-New Wolverine/Wolverine #1 and Generations: All-New Thor/Thor #1 — also made the list, as well as issues #34 and #35 of Marvel's Star Wars. Only three comics from Marvel's biggest competitor, DC, made the list: Batman #28, Batman 29, and Dark Knights: Metal #1.
However, there are a lot of caveats and asterisks to Marvel's success with Secret Empire. As some experts have pointed out, Marvel has a vast market share over its competitors, and Marvel still lost DC for the tippy-top number one spot. (Dark Knights: Metal #1 was the absolute best-selling comic of last month.) Still, it is telling that in spite of harsh reviews and lethargic apathy towards Secret Empire, Marvel still managed to sell a lot of issues of a fascist Captain America.
For comparison, July 2017 was less fruitful for Secret Empire; issues six and seven still made the Top 10, but Marvel was still edged out by DC for the number one spot (Dark Days: The Casting #1). Marvel still had some best-sellers, such as in Astonishing X-Men #1 and Spider-Men II #1. But the only time Secret Empire was ever the number one best-seller was when the first issue was published back in May.
Sales are indicative of many things, but they aren't the only thing. There was a lot of noise on Twitter lambasting Secret Empire, and while it's expected for people to be loud on social media, it was enough that Marvel asked fans to be patient over the book's plot. Twice. Narratively, it may or may not have all paid off, from it certainly did from a sales perspective.