Mark Ruffalo Teases How Hulk Vs. Thor Ends in 'Ragnarok'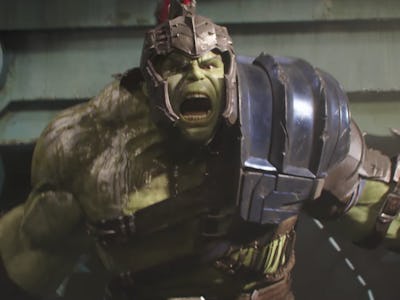 YouTube.com/Marvel Entertainment
Hulk knows truth about Hulk's fight with Thor. Hulk has Instagram of Hulk beating Thor. Hulk say: Victory is his!
On Tuesday, Mark Ruffalo, who plays the Hulk in the Marvel Cinematic Universe, teased the ending of his upcoming cinematic showdown with Thor (Chris Hemsworth) in a fun photo he shared on Instagram. Using two PVC action figures of the Hulk and Thor (both in their classic looks from the comics), Ruffalo showed the Hulk dominating over his golden-haired Avengers colleague. They are friends from work, remember.
In a caption, Ruffalo writes: "Wait what? Who smashed who? The fight of the century is coming. #ragnorok #thorragnarok #hulksmash #ragingfire #smolderingfire @chrishemsworth @taikawaititi"
Although the true fight will be against the evil Hela in Thor: Ragnarok, fans of Marvel are in for the showdown of a lifetime when Thor will be forced to fight the Hulk in an intergalactic gladiator match held by the mysterious Grandmaster (Jeff Goldblum). The film, directed by Taika Waititi, will loosely adapt portions of Greg Pak's Planet Hulk series from 2006, in which the Hulk was banished away from Earth by the Illuminati (the superhero group with Iron Man and Black Bolt) and ends up conquering an alien planet as a warrior-champion. Oops.
See Ruffalo's Instagram below.
Thor: Ragnarok will be released on November 3.