iPhone 8 Release Date Report Suggests an Imminent Launch
Tim Cook may have the phone primed and ready to go.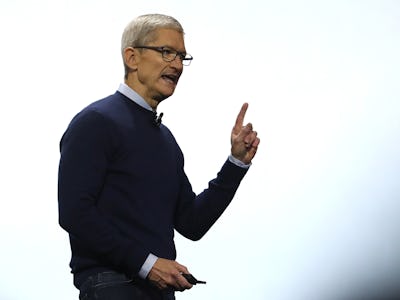 Getty Images / Justin Sullivan
The iPhone 8 could arrive sooner rather than later. A new report published Wednesday suggests Apple plans to launch the device mid-September, which chimes with previous reports and historical data that suggests a launch is likely just around the corner.
The latest report from Mac4Ever claims that cell service providers have been told to expect Apple's announcement event to take place on September 12. Based on previous patterns, this would likely mean that the iPhone 8 will launch around 10 days later, on September 22.
It's a big moment for Apple. Released in the 10th year of the iPhone's existence, the upcoming device is set to pack a number of high-end features, like an OLED screen, wireless charging, facial recognition, and a bigger battery, into a sleek package. But the price could put consumers off, with reports suggesting the phone could retail for over $1,000. The announcement event will be a make-or-break moment. The company could successfully frame the bad news like it did at the 2010 iPhone 4 "Antennagate" event, or it could go down in history as particularly cringe-inducing, like the 1997 event where Apple announced a deal with Microsoft, and the crowd started booing.
However, it appears the event date is not a certainty just yet. 9to5Mac, for example, maintains to have heard multiple claims from sources. Benjamin Geskin, a noted Apple leaker, also notes Apple has placed a block on employees taking time off from September 17 to November 4 outside of the event window. On the other hand, Geskin shared information on Wednesday from an unnamed third party company presentation that placed the sales date on the week beginning September 17.
Apple has released a new flagship iPhone model every fall since the iPhone 4S in October 2011. On September 27 of that year, Apple sent out event invites for October 4. The device went on sale exactly 10 days later.
Since then, the company has followed this pattern with almost every launch:
iPhone 5 (2012): announced September 12, released September 21
iPhone 5S (2013): announced September 10, released September 20
iPhone 6 (2014): announced September 9, released September 19
iPhone 6S (2015): announced September 9, released September 25
iPhone 7 (2016): announced September 7, released September 16
The company sends out press invites around a week in advance of the presentation. That means if the iPhone 8 is revealed on September 12, invites should go out around September 5, with the phone on sale around September 22.