New iPhone 8 Rendering Shows a Stunning Edge-to-Edge Display
September can't come soon enough.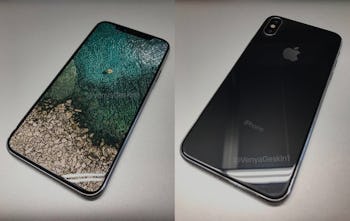 VenyaGeskin1/Twitter
The iPhone 8 is set to launch in just a few months, and a number of leaks have shown what Apple has in store for the tenth anniversary of its flagship device. Skipping the traditional format of launching a new design every two years, Apple is set to release a phone with a beautiful edge-to-edge display and a hidden fingerprint scanner. Leaker Benjamin Geskin posted a new rendering to his Twitter account on Tuesday that show how these features may look.
Geskin tells Inverse that the rendering was made in Adobe Photoshop, drawn from a combination of leaked schematics and 3D models, as well as pictures of dummy models. Revealed last week, an iPhone 8 dummy model, showed many of the design decisions that rumors claimed would make it to the final device. These fake models do not work as real phones: instead, case manufacturers may use them to prepare products ahead of launch.
Apple is set to make two key changes to bring this iPhone to life. The first is a switch away from LCD screens, used in every iPhone since the original in 2007, to an OLED screen. These screens, used in the Apple Watch and some high-end Android smartphones, offer far deeper blacks and greater manufacturing flexibility in designs.
The company also plans to hide the fingerprint scanner, currently located below the screen on the home button, underneath the display. This enables Apple to build the screen closer to the edges of the device. A previous report suggested Apple would use optical fingerprint scanning to take an image of a user's print when placed against the screen, ditching the capacitative sensors that run an electrical charge through a person's thumb.
The special edition device is rumored to launch alongside an iPhone 7S and iPhone 7S Plus, making the iPhone 8 the premium offering in the three-device lineup. Because of the edge-to-edge display, the phone is expected to pack a 5.7-inch screen in a device just five millimeters taller than the current iPhone 7, giving it an even larger screen than the 5.5-inch iPhone 7 Plus.
Apple has placed restrictions on employees taking time off from September 17 through November 4, meaning a late September launch is likely as more employees will be on hand to help the project move as smoothly as possible. The big reveal can't come soon enough.