The iPhone 8 Price Will Hit Four Figures
The iPhone is set to enter the one-comma club.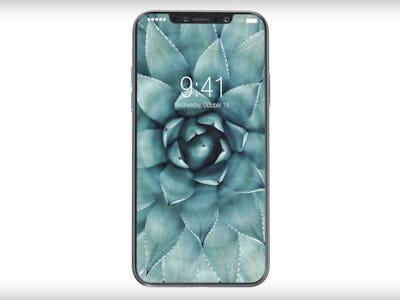 Concept Creator/YouTube
Want a new iPhone 8? It's probably gonna cost you. A new report released Wednesday reveals Apple is considering a price tag of around $999 for its next device, which is expected to sit alongside an iPhone 7S and 7S Plus as part of the company's refreshed smartphone lineup this fall.
Brian X. Chen, writing for the New York Times, claims Apple has settled on the new price as one of the major changes to the lineup this year. The iPhone 7 Plus, currently the most expensive model Apple produces, starts at $769 for a 32GB model, with the most expensive tier priced at $969 for 256GB.
John Gruber, an Apple blogger at Daring Fireball, suggested on Thursday that if Chen's sourcing is accurate, it could mean that the iPhone 8 will start at $999. Apple could introduce extra storage tiers, as it has done for every other iPhone since the device first launched in 2007, with Gruber suggesting other storage sizes may be priced at $1,099 and $1,199.
Apple is set to pack a lot of technology into the premium-priced device. A 5.8-inch OLED screen is rumored to adorn the front of the device in a similar size to the 4.7-inch iPhone 7. A 3D face recognition scanner, bigger battery, dual lens camera with depth sensing, virtual home button, increased processor speeds, and wireless charging are all rumored to make an appearance in the upcoming device.
The 7S and 7S Plus are expected to retain the designs of the previous iterations, enticing consumers to pay up the extra money, but some features, like wireless charging and faster processors, will likely make their way to the cheaper devices.
It's not the first time a high price has been suggested for the iPhone 8, and it's not even the highest. The Wall Street Journal claims the iPhone 8 could retail for anywhere between $1,000 and $1,400. This would be an unprecedented price for a mainstream flagship smartphone: the Samsung Galaxy Note 8, revealed earlier this week, turned heads with its $930 price point. It would even rival high-end computer prices, with Apple's ultra-slim, 12-inch MacBook starting at $1,299.
If Apple can pull it off, it would set new standards for what people expect to be a reasonable price to pay for a smartphone. Then again, with OLED and wireless charging already a mainstay of flagship Android devices, consumers may not appreciate paying top dollar for features that have been standard elsewhere for years.